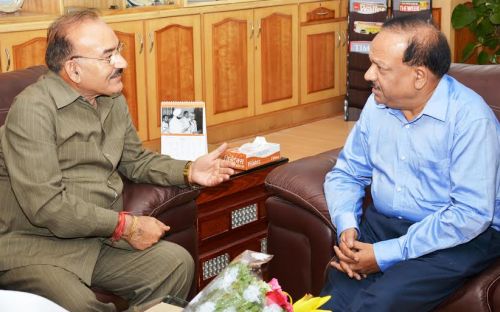 Health Minister Kaul Singh Thakur met with Union Health Minister Dr. Harsh Wardhan at New Delhi today and urged the Union Government not to trim down the number of MBBS seats in two medical colleges of the State in Government sector keeping in view the paucity of medical officers in the State.
Kaul Singh Thakur apprised the Union Minister that Himachal Pradesh had best health indicators in the country and said that both the medical colleges of the State had required infrastructure and adequate staff. He urged the Minister that number of MBBS seats should not be reduced as it would adversely affect the health services especially in the rural and far flung areas.
He informed the Union Minister that besides two medical colleges in government sector one more medical college of ESI Corporation to be governed by Labour Ministry would be soon made functional. Besides one more medical college was functioning in the private sector and Medical Council of India (MCI) had already granted permission to start the first batch of 150 students.
Kaul Singh Thakur assured that the State Government would soon remove the anomalies in IGMC, Shimla as pointed out by the MCI. He also urged that Himachal Government should be given a chance to present its case strongly before taking a decision pertaining to reducing MBBS seats.
He also demanded that one hospital may be approved for the State on the analogy of AIIMS. The Union Health Minister said that the State Government should identify appropriate land measuring 100-150 acres after which the Government of India would consider the demand for a hospital of AIIMS level. He said that a conference of Health Ministers of all the States would be organized soon to discuss the problems being faced by the States.
Kaul Singh congratulated Dr. Harsh Wardhan for assuming the charge of Union Health Minister and invited him to visit Himachal Pradesh.