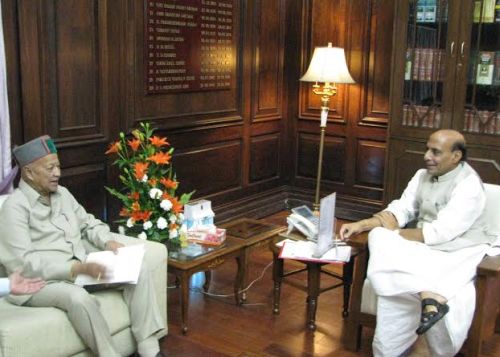 Chief Minister Virbhadra Singh has requested Union Home Minister Rajnath Singh to re-deploy Indo-Tibet Border Police (ITBP) in bordering belts of Chamba district in the State. He apprised the Union Home Minister that the force was deployed earlier in Chamba district adjoining border area of Jammu and Kashmir but was withdrawn in December, 2012. Chief Minister had raised this issue with Union Home Minister in a meeting held at New Delhi yesterday.
While congratulating Rajnath Singh for assuming the charge of Union Home Minister, Chief Minister said that Himachal Pradesh had made tremendous progress in every field despite its limited resources. He said that Himachal Pradesh was a peaceful State having International borders with China alongwith interstate boundaries and thus there was an urgent need to be vigilant besides modernizing police forces which was need of the hour.
Virbhadra Singh urged the Union Minister to include Shimla City under GoI Mega Policing Project. He said that, however, Shimla town does not fulfil the criteria as per population norms to be covered under the scheme, but it has been included by Government of India under Jawaharlal Nehru National Urban Renewal Mission (JNNURM) by giving relaxation in the norms. He said that Shimla was visited by national and international tourists and important persons being a prominent tourist destination keeping in view this the modernization of police force project should be implemented.
Chief Minister also raised the issue pertaining to volunteers engaged in Seema Surksha Bal. He said that SSB volunteers were disengaged after re-organization of SSB and as a result they had gone to H.P. High Court, which directed Government of India/ Government of Himachal Pradesh to frame a policy for absorbing them in the Armed Forces/Para-Military Forces including Special Security Bureau taking into consideration the specialized trainings they had undergone. He said that this matter needed to be sorted out urgently and Centre Government should intervene in it.
Virbhadra Singh said that the Special Police Officers (SPOs), deployed to support the counter insurgency measures along the interstate borders were presently being paid Rs. 3000 per month. He urged to enhance this amount to Rs. 6000 per month.
Union Home Minister Rajnath Singh assured to consider these issues sympathetically. He also assured that Centre Government would extend all possible help for maintaining law and order situation in the State.