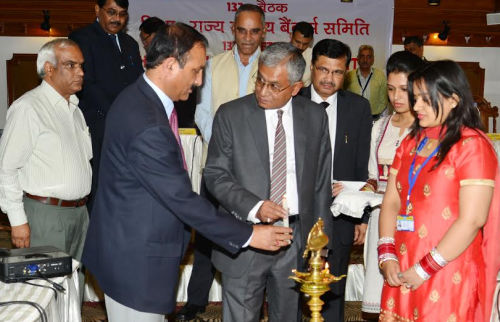 Chief Secretary P. Mitra said that annual financial commitment fixed under Annual Credit Plan 2013-14 was surpassed by 109 per cent by disbursement of credit to the tune of Rs. 12583 crore. The sectoral disbursement of bank credit on a year on year basis grew by 42 per cent in March, 2014.
Mitra while reviewing the performance of banks operating in the State in the 132nd State Level Bankers Committee (SLBC) meeting said that a record number of 143 new bank branches were opened in the State during 2013-14. He complimented the banks for their achievements in various sectors in the State.
He said that banks provided advances to the tune of Rs. 27327.65 crore in last fiscal as compared to Rs. 23825.55 crore in the year 2012-13. He said that in the year 2013-14 Credit Deposit Ratio (CDR) of the State was 60.31 per cent while it was 60 per cent at National level. The priority sector advances were 72.78 per cent as compared to 40 per cent while agriculture advances were 22.17 percent as compared to 18 per cent of national level. He said that advances to weaker sections were 20.33 per cent while it was 10 per cent in national level. He said that advances to women were 8.04 per cent in last financial year as compared to 5 per cent of national level.
P. Mitra said that last meeting of SLBC was held in April, 2014 under the chairmanship of Governor RBI Dr. Raghuram G. Rajan. He said that banks should strive to improve the CDR and opening of new branches in the rural areas to meet the banking needs of the farmers. He also asked to explore the possibilities of mobile banking keeping in view the tough topography of this hilly state. He assured that State Government would provide all assistance to the banks to improve their business which would help in State development.
Special Secretary and Director Rural Development Jagdish Chauhan said that banks should stress on providing linkage support to Self Help Groups (SHGs) in rural areas and bankers should strive to achieve the targets under MNREGA and other rural development oriented schemes.
General Manager UCO Bank and Convener SLBC Himachal Pradesh V.K Shrivastava informed that banks record business growth of 13.8 per cent and the deposits of banks grew at 13.47 per cent and reached at a level of Rs. 65810 crore. He said that advances of banks attained a higher growth of 14.70 per cent and touched a level of Rs. 27328 crore. He said that banks operating in Himachal Pradesh were less affected with the overall slow trend of the economy.
Regional Director, RBI Shimla I.S. Negi stressed the need to open more new branches in un-banked rural areas so that economical weaker section should be benefited with banking services. He said that quality of services provided by Business Correspondents Agents (BCAs) engaged by banks should be closely monitored to meet out the objectives of the scheme to provide low cost banking services.
Chief General Manager NABARD K.P. Chand said bankers should adopt cluster approach and bring many SHGs under one cluster like Kaam Dhenu Milk Society of Bilaspur. He said that cluster could be formed in agriculture and dairy farming sectors.
Deputy General Manager A.K. Sinah proposed vote of thanks.
Senior Officers of State Government and representatives from banking and financial institutions gave valuable suggestions in the meeting.