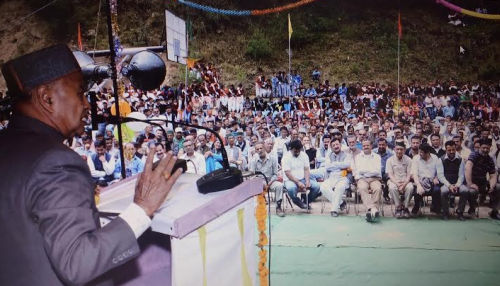 Chief Minister Virbhadra Singh announced that Deha of Balson region in Chopal constituency of Shimla district would be made Sub-Tehsil to facilitate the people of the area.
Chief Minister, during his Chopal assembly segment tour, also announced Veterinary Dispensary for Deothi and Primary Health Center for Basadhar. He also inaugurated four kilometers Deha Dhar nullah road constructed at a cost of Rs. 8 lakh and 19 kilometers Pabas-Mashroh road constructed by spending Rs. 403.20 lakh.
Singh also announced inaugurations of Thuth to Noli road constructed at a cost of Rs. 41.71 lakh, Bala to Kishor road constructed at a cost of Rs. 105.60 lakh and Shalowa to Tikkar road constructed at a cost of Rs. 92.17 lakh. He also announced inauguration of Science Block of GSSS Deha completed at a cost of Rs. 76.02 lakh.
While addressing a public meeting at Deha, Virbhadra Singh said that roads were the synonym to development and Chopal area which was considered developing earlier would be connected with massive road network in times to come and that was not far.
He said that the State government was committed for opening new educational institutions in the far-flung areas. He said that in next one and half year the Government will open many new schools and colleges to give best education facility to the students at their door-steps.
Virbhadra Singh stressed upon adopting the latest modern technologies so as to keep pace with fast changing world of present era. He said that there were more than 550 TV channels in the country in various languages and every one had access to internet and social media and the need of the hour was to update with these technologies.
Taking a dig at "Achhe Din" of the BJP, the Chief Minister said that since the NDA had taken over the centre the prices of fuel, sugar and many consumable items have increased and rail fare hiked. He said it was due to social media wave that BJP got mandate in the Lok Sabha elections.
Local MLA, Balbir Verma, Chairman, H.P State Agriculture Marketing Board Subhash Manglet were also present at the occasion.