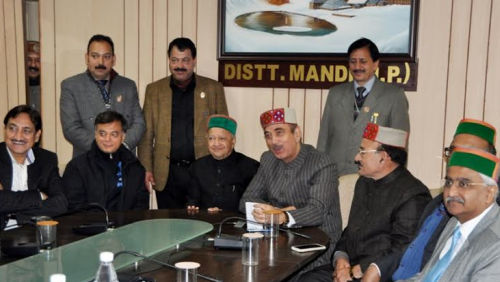 Union Health Minister Gulam Nabi Azad today inaugurated Super Specialty Hospital Block at Doctor Rajender Prasad Government Medical College, (RPGMC), Tanda through Video Conferencing from Mandi today. Azad was to go to RPGMC today along with the Chief Minister Virbhadra Singh and State Health Minister, but due to adverse weather condition the trio could not fly from Mandi.
Earlier, Azad laid foundation stone of Rs. 17 crore 100 bedded Mother-Child hospital at Zonal Hospital Mandi. Later, addressing the gathering at Zonal Hospital (ZH) campus Mandi, Union Minister said that Government of India (GoI) has doubled the budget allocation in health Sector for the States of Jammu and Kashmir (J&K), Uttrakhand and Himachal Pradesh. He said that because of tough geographical topography of these hilly states the development works become difficult to carry out in stipulated working period. He said that as he himself belongs to Doda area of J&K, and he better realizes the problems being faced by hilly areas as the working period in comparison to other States is limited to only six to seven months.
Union minister announced to set up two Trauma Centers in the hospitals of the State besides a burn Centre/unit at IGMC Shimla. "I wanted to see Himachal Pradesh emerging as a Model State in every sphere of development and especially in Health Sector in next four years" said Azad. He said that as many as six health institutions equivalent to AIIMS has been developed in the Country with super specialized facilities like Oncology, Cardio-Thoracic and Vascular Surgery, Neurology Nephrology, Neurosurgery, Gastroenterology, Cardiology and Urology etc of which Tanda is one. A similar Super Speciality hospital worth Rs 150 crore would be developed in Shimla. "This will give relief to the people of the State who otherwise had to rush to PGIMER Chandigarh or AIIMS Delhi for specialized treatment", said he.
He said that two cancer institute's would be set up in Shimla and Mandi, besides financial aid of Rs 190 crore each would be provided to set up Medical Colleges in backward and bordering districts of Chamba and Nahan district hospitals.
Speaking on the occasion Chief Minister Virbhadra Singh thanked the Union health Minister for providing liberal assistance to the State of HP for strengthening the health infrastructure and providing easy access to health facilities to the poor people nearer to their homes.
Earlier, Health Minister Kaul Singh Thakur welcomed the Union Minister and the Chief Minister. Transport Minister, while interacting with the Union Minister and the Chief Minister through Video-conferencing, thanked them for dedicating super-specialty hospital at Tanda and requested to visit Kangra district on 8th of March, 2014 when Vice-President of Indian National Congress, Sh Rahul Gandhi will be addressing the people of the State at Dharamsala. He requested to open Trauma Centre at Dr. RPGMC and to increase the MBBS seats from 100 to 150 at both Government colleges viz: RPGMC and IGMC.
ACS, Vineet Chaudhary, proposed Vote of thanks through video-conferencing from Tanda.
DME Dr. Jayshree, Principal, Dr. Rajendra Prasad Government Medical College and Hospital, Tanda Dr. Anil Chauhan, faculty and staff of the college were also present during the video conferencing.
Rural Development and Panchayati Raj Minister, Anil Sharma, CPS, Sohan Lal and other dignitaries of the town were present on the occasion amongst others.