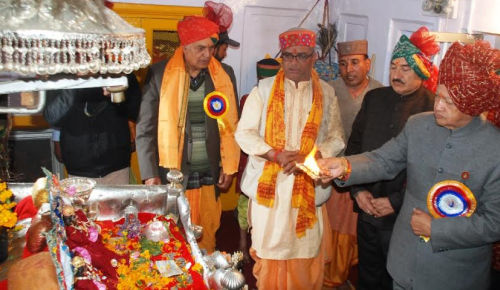 Chief Minister Virbhadra Singh today inaugurated the week long International fame Shivratri Fair at Mandi. He led the Shivratri procession from the Shrine of presiding deity Raj Madhav Rao to the venue of the celebration Paddal ground after paying obeisance to the Presiding deity. The procession consisted hundreds of local deities decorated in palanquins and accompanied by their instrumentalist, Band Squads, devotees, contingents of Himachal Police, Home Guards etc.
He was accompanied by Kaul Singh Thakur, Health Minister, Prakash Chaudhary, Excise and Taxation Minister, Anil Sharma, Rural Development & Panchayati Raj Minister, Sohan Lal Thakur, Chief Parliamentary Secretary, T.G Negi, Advisor to the Chief Minister, Amit Pal Singh, OSD to the Chief Minister, Devesh Kumar, Deputy Commissioner–cum-Chairman, Shivratri Fair Organizing Committee, and other prominent persons of the area.
Addressing the gathering at Paddal ground, Virbhadra Singh greeted the people of the State, especially people of district Mandi, on the Shivratri Festival and wished them a joyous celebration. He also welcomed the participating deities to the fair which had been instrumental in giving devotional feel to the people participating.
Virbhadra Singh announced a hike of 10 percent in the Nazarana (honorariums) of the local deities and the bajantris, the traditional folk musicians. He also announced that a 'Sanskriti Bhawan' would be constructed at Mandi to facilitate the people accompanying the deities.
The Chief Minister said that various fairs and festivals celebrated throughout the State represented our centuries old culture and traditions. The people of the State had unique culture and traditions and people deeply believe in the deity culture. He underlined the need to maintain our culture and traditions as they form the basis of our identity.
The Chief Minister also inaugurated the exhibitions put up by various departments of the State, Public Sector Undertakings, Government of India, Self-Help Groups and commercial organisations etc.
Later, he also inaugurated the Saras Mela being organized at Seri Manch in which various handicraft and handloom items had been displayed by traders from different States.