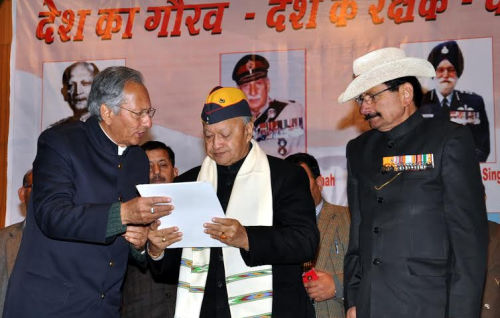 Kangra: Chief Minister Virbhadra Singh said that his government was committed to safeguard the interests of the soldiers and ex-servicemen and all the best possible measures were being taken to provide them all the required facilities in the State. He was presiding over the State Level function of Indian Ex-Servicemen League organised at the Government Polytechnic Institute, Kangra.
The Chief Minister said that our soldiers had made supreme sacrifices in the freedom struggle besides safeguarding the National and International boundaries. Virbhadra Singh said that effective and speedy implementation of welfare schemes for ex-servicemen was being ensured by the State government which includes reservation in government jobs, scholarship schemes for their children, loan facilities for self- employment ventures besides various other incentives.
The Chief Minister said that the State would effectively take up the issue of change in norms on basis of population for recruitment in the armed forces. He said that the long pending issue of one rank-one pension had been accepted by the Centre Government but few issues were still pending which would be effectively plead before the Union Government in large interests of ex-servicemen in the State.
He said that the Government had increased the rates of annuity payable to Gallantry Award Winners and all other distinguished awardees. The Government had also introduced 34 welfare schemes for the rehabilitation and welfare of ex- servicemen, war widows and their dependents.
Virbhadra Singh announced to fill up all vacant posts of Deputy Director, Sainik Welfare. He also announced to resume rupees two lakh annual grant to the Ex-Servicemen League which was discontinued by the previous BJP government. He said that appropriate land would also be made available to the League to construct its building.
On the occasion, he also honoured the family members of various Award winning soldiers on the behalf of the League.
Maj. Vijay Singh Mankotia, President, Indian Ex-Services League, while welcoming the Chief Minister, thanked him for taking various measures for ensuring the welfare of the soldiers and ex-servicemen. He demanded to remove population criteria in recruitment of the soldiers and setting up of State Training Academy for Armed Forces in the State. He also urged that the two Eco-Force Companies already established in the State and NCC wing should not be winded up.
Birg. B.S Thakur, Chairman, Kullu Unit of the League urged for early opening of the CSD depot in the State. Birg. (retd.) R.K Rana welcomed the Chief Minister and presented the demand charter while V.S Chauhan, Senior Vice President presented the vote of thanks. Pawan Kajal and Ajay Mahajan, MLA's, Kewal Singh Pathania, former Minister, Surender Kaku and Bodh Raj, Ex-MLAs, Lt. Gen. P.K Rampal, Lt. Gen. K.S Jamwal, family members of the ex-servicemen and other senior officers were present on the occasion.