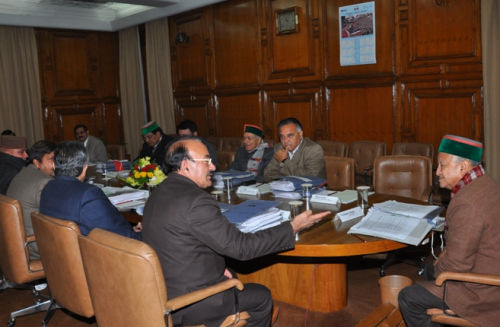 The Himachal Pradesh Cabinet in its meeting held under the chairmanship of Chief Minister Virbhadra Singh, here today decided to convert the cadre of Panchayat Secretary to State cadre and Panchayat Sahayak to district cadre. Earlier these cadres were district and block cadres respectively. Cabinet also approved to adopt an auction cum tender policy for toll tax barriers from next financial year.
Cabinet decided to continue with the free school uniform scheme and renamed it as "Mahatma Gandhi Vardi Yojna". It was also constitute a committee under the Chairmanship of Additional Chief Secretary (F&CS) for finalization of purchasing cloth, specification, design, colour and handling charges etc.
Cabinet also decided to invite tender afresh for Shimla Water Supply and Sewerage Project to built, operate and maintain water supply and sewerage system for Shimla city under PPP mode.
Cabinet decided to constitute a Sub-Committee for spot inspection for axing and chopping off trees which are posing a threat to human life and property in Shimla MC area. Forest Minister, Excise and Taxation Minister and Urban Development Minister will be the member of the committee.
Cabinet also approved to entrust Audit of M/S Mashobra Resorts Pvt. Ltd. to the Comptroller and Auditor General of India (CAG) right from 1995 onwards.
It gave its approval to fill up posts of TGT (Arts), TGT (Non-Medical), TGT (Medical), Shashtri and Language Teachers through Himachal Pradesh Subordinate Services Selection Board (HPSSSB) as per existing recruitment and promotion rules. It was also decided that Teacher Eligibility Test (TET) for the above mentioned posts would be conducted by Himachal Pradesh Board of School Education on the analogy of JBT.
Cabinet gave its nod to open a Fire Post in Kala Amb of district Sirmour and one Fire Post at Sri Naina Devi Ji in Bilaspur district. It was decided that Police Post near Kharsi in district Bilaspur would be opened.
Cabinet gave its approval to grant Special Pay to certain categories of Personal Staff working in H.P. Secretariat and its equivalent offices as per Punjab Government orders on prospective effect.
It was decided in the meeting that 70 Fireman would be re-designated as Honorary Leading Firemen with special allowance of Rs. 80/- per month to those who has completed 20 years of service without any promotion/additional financial benefits in Civil Defence department.
Cabinet gave its approval to fill up 50 posts of Warders which includes 10 posts of Female Warders on contract basis in Prison department.
It was decided to fill up one post of District Employment Officer Class-I Gazetted through direct recruitment, three vacant posts of Clerks in Youth Services and Sports Department on Contract basis and one post of Mason Class-III in Forest Department.
Cabinet approved the creation of 8 posts of different categories in Election Department, creation of 1 post of Superintendent Grade-I in Planning Department. It was also decided that 17 backlog posts of TGT (Non-Medical) would be filled on contract basis.
Cabinet approved R& P Rules for Planning Officer Class-I Gazetted in Town and Country Department, approved amendment in R& P Rules for Commandant/Junior Staff Officer in Civil Defence Department and R&P Rules for the post of Joint Director in Directorate of Scheduled Caste, other Backward Classes and Minority Affairs. Amendment in R&P Rules for Deputy Director/Deputy Controller, Class-I Gazetted was also approved so as to increase the number of posts from six to seven.
It was also decided to declare one barrack of District Jail Dharamshala in Kangra district as Open Air Jail.
Cabinet decided to enhance fixed medical allowance of Judicial Officers from Rs. 100 to Rs. 1000 per month and to fix the medical allowance of Retired Judicial Officers and Family Pensioners at Rs. 1500 per month and Rs. 750 per month respectively as recommended by Justice Padmanabhan Committee.
Approval was also given to re-name Sunni Degree College as Government Degree College Sunni and Bangana College as Government Degree College Bangana.