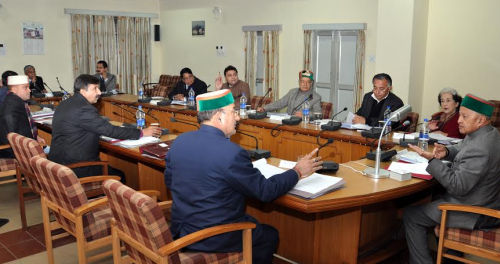 Dharamshala: The State Cabinet, which met under the Chairmanship of Chief Minister Virbhadra Singh at Dharamshala, decided to create HP Swan River Channelisation Authority (HPSRCA) as a specially empowered State Government Entity to ensure timely completion and better monitoring of the project.
The Swan River Channelisation Project is one of the biggest projects costing to Rs.922.48 crore which would channelise Swan River from Daulatpur Bridge to Gagret Bridge in main Swan River and all and its 73 tributaries joining Swan river from Daulatpur Bridge to Santokhgarh bridge in district Una. This project would be completed in 48 months and it would benefit 2.36 lakh populations of 165 village and 7,163 hectare area.
The Cabinet gave its approval to open Sub-Tehsil at Kotgarh in district Shimla and Narag in district Sirmour.
The Cabinet also approved amendment in the Himachal Pradesh Member Legislative Assembly (Discretionary Grant) Rule-2013. The discretionary grant shall be Rs. Eight Lakh for Ministers and Speaker, Rs. Six lakh for Deputy Speaker and Rs. Four Lakh for Chief Parliamentary Secretaries.
The Cabinet gave its nod to impose complete ban on felling of Bargad and Peepal trees in private land.
Cabinet gave its nod to construct an additional VIP set at PWD Rest House, Sujanpur Tihra in district Hamirpur. It also approved to downgrade the newly created post of Engineer-in-Chief, (Quality and Control/ World Bank Project) to Chief Engineer (World Bank) in PWD Department.
Approval was given for the restoration of Chatterkhand (1.5 MW) SHEP in district Shimla on certain terms and conditions. It also approved Financial Restructuring Plan (FRP) of Himachal Pradesh State Electricity Board Ltd. and approval was also granted for State Government Guarantee of Rs. 1462.50 Crores for FRP of HPSEB Ltd.
The Cabinet decided to amend Guidelines for management of local Area Development Fund (LADF) of Hydro Electric Projects and declared the Forest Minister as Chairman of LADF for Chamba district.
It also approved to grant extension for payment of Upfront Premium (2nd Installment) in respect of Tandi, Rashil and Tinget Hydro Electric Projects. The projects shall stand cancelled if payment is not received within three months.
Cabinet gave its nod to grant one time relaxation in the R&P Rules of TGT for promotion already made from HT's/ CHT's to the post of Trained Graduate Teachers upto 31st December, 2013.
Approval was given to simplify the procedures of registration and granting Token Tax exemption for tractors used for agriculture purpose to the farmers having one hectare of land.
Cabinet also approved regularization of six contractual drivers in Transport Department. It also approved to upgrade one post of driver as Supervisor in Governor's Secretariat.
Approval was given to fill up six vacant posts of Civil Judge (Jr. Division).
The Cabinet also approved to exchange the private land to Primary School, Masrundh in Chamba district. Approval was given for framing of new Recruitment and Promotion Rules for the post of Tehsildar (Class-I Gazetted) by way of repealing of the existing R&P Rules with prospective effect.
The Cabinet also approved the scheme for granting of Terminal benefits for the Vocational Training Centre Instructors in the Sainik Welfare Department.