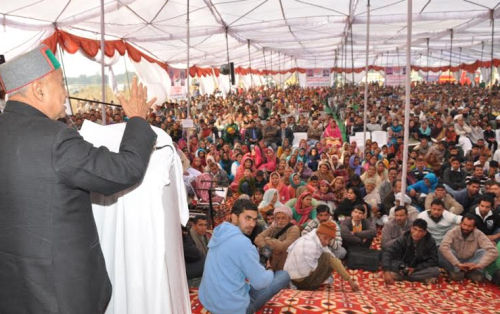 Kangra: Chief Minister Virbhadra Singh said that the state government was committed for over-all development of the State besides ensuring equal and balanced growth of all areas and its people. He said that Kangra district was being accorded priority in all spheres of development and during past one year numerous developmental works were under taken in the district.
He was addressing a public meeting at Mangwal in Gangath constituency of Kangra district today. Virbhadra Singh said that he always believed in clean and healthy politics and have never indulged in politics of vendetta and victimization of his political rivals.
Virbhadra Singh said that Himachal Pradesh has emerged as a role model of development for all other states, the credit for which goes to the successive Congress Governments which ruled the State.
The Chief Minister announced to open sub-tehsil at Gangath in Kangra district. He also announced to upgrade four High Schools viz: GHS Dagla, GHS Mangwal, GHS Ghoran and GHS Kandrori. He also announced to open Ayurvedic Dispensary at gram panchayat Dagla. He directed PWD authorities to improve the condition of Kandrori road which is in a bad shape. He also directed the Health Department to explore possibilities to open Primary Health Centre at Mangwal.
Earlier, the Chief Minister inaugurated Mangwal Khad Bridge on Kandrori-Pucca Tala road constructed at a cost of Rs. 80 lakh, besides he also laid foundation stone of channelization project of Chhonch Khad at Dah-Kulara, to be constructed at a cost of Rs. 180 crore.
Speaking on the occasion, Irrigation and Public Health Minister Vidya Stokes said that the State Government was endeavouring to provide portable water and better irrigation facilities to the people of the State. She said that safe drinking water had been provided to 1327 habitations and 1315 hand pumps are installed in the water scarcity area during past one year. She said that Rs. 21 crore drinking water supply scheme was being constructed for Dharamshala town which would benefit around 50,000 people of the town.
Stokes said that Rs. 148 crore were being spent on various drinking and irrigation schemes in Kangra district and during this financial year. A target had been fixed to provide drinking water to habitations and irrigation facility to 1075 habitations besides installing 240 hand pumps in the district.
Later, Chief Minister also laid foundation stone of Rs. 2.90 crore Suradwan Khad bridge on Indora-Rey road. He also inaugurated Tanda-Pattan Bridge on Bain Indorian –Mand-Miani-Paral road constructed at the cost of Rs. 9.47 crore.
Manohar Dhiman, MLA, Indora welcomed the Chief Minister and apprised him about various demands of the people of the constituency.
Sujan Singh Pathania, Agriculture Minister, Thakur Singh Bharmauri, Forest Minister, Sudhir Sharma, Urban Development Minister, Ajay Mahajan and Pawan Kajal, MLA's, Kewal Singh Pathania, Vice Chairman, State Forest Development Corporation, Manmohan Katoch, Member Secretary, State Khadi Board, Gagan Singh Katoch, Chairman, Panchayat Samiti, Sunil Padha, Director, Kangra Central Cooperative Bank and other prominent persons of the area were also present on the occasion.