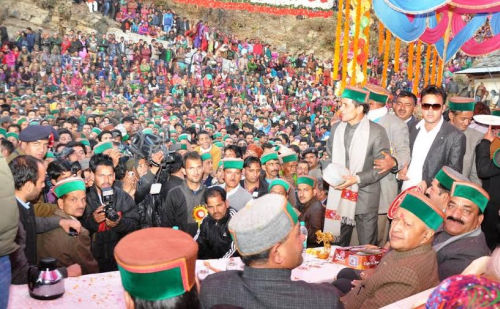 Chief Minister Virbhadra Singh said that Himachal Pradesh was land of God and Goddesses and the people have deep faith in their religious deities adding that in many parts of the State, the people abide strictly to the directions of their deities in day to day life.
He was addressing the gathering after participating in religious ceremony performed by the Kardars of newly constructed Chalda Mahasu Devta Temple, Khashdhar in Chhohara block of Rohru Sub Division of Shimla district today. He said that many famous religious shrines are located in the State where people in number come to pay their obeisance. The Government is endeavoured to develop and maintain these shrines to facilitate the visitors.
On the occasion, the Chief Minister announced to provide Rs. one crore for construction of new building of GSSS Khashdhar. He said that the status of Senior Secondary School was given for this school during his previous term but the BJP Government de-notified this school. The present State Government had reopened all 149 schools including this School which were de-notified by the BJP Government. He complimented the local administration and people of the area for developing a splendid playground for the school.
Virbhadra Singh said that he represented Rohru constituency for many years and was well aware about the developmental needs of each village. He said that all roads were being metalled and improved to facilitate the commuters in a time bound manner. He assured the metalling of Sandasu-Khashdhar road and connecting the Jakhi village of the panchayat with road facility.
Local MLA Mohan Lal Brakta thanked the Chief Minister for giving special attention to the area in the matter of development. He requested for construction of vegetable market and new bus stand at Rohru. T.G. Negi, Advisor to Chief Minister, Dinesh Malhotra, Deputy Commissioner, Abhishek Dullar, SP and other senior officers were also present on the occasion.