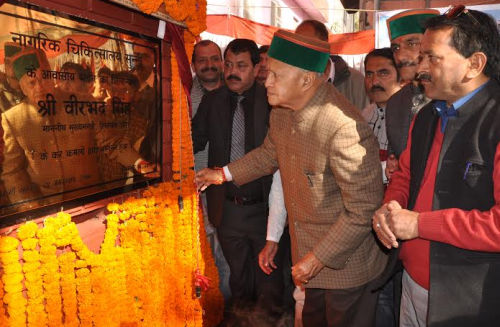 Chief Minister Virbhadra Singh said that equal, speedy and balanced development of the State was priority of his Government and adequate funds had been made available for developmental projects. He was speaking after planting a 'Peepal' sapling at Sunni in Shimla district today.
Earlier, Chief Minister performed the foundation stone laying ceremonies of Science Block of GSS, Sunni to be constructed at a cost of Rs. 96.94 lakh and 50-bedded Civil Hospital to be constructed at a cost of Rs. five crore at Sunni. He also laid foundation stone of residential block at Civil Hospital, Sunni to be constructed at a cost of Rs. 144 lakh. He inaugurated the Police Station at Sunni and laid the foundation stone of Police Station building to be constructed at a cost of Rs.71.63 lakh.
Virbhadra Singh inaugurated the Police Post at Jalog and laid the foundation stone of Police Post building to be constructed at a cost of Rs.73.13 lakh. He dedicated Karyali-Shada-Nallah road to the people constructed at a cost of Rs. 86.44 lakh. It would provide connectivity to Shada and Nallah village. He also dedicated Karyali Lift Water Supply Scheme constructed at a cost of Rs. 77.51 lakh which would benefit 2200 people of 17 hamlets. On the occasion, he said that road facility would also be provided to Himari-Nallah-Shada-Navi villages.
Chief Minister said that efforts were being made for conservation of environment in the State. He said that green felling his been totally banned during mid 80s by his Government and ban has also been imposed on felling of Peepal, Bargad and aged mango trees on Shamlat land besides other trees. He said that the Peepal tree was source of oxygen and it was also worshipped in Indian culture. He appealed to the people to conserve the environment so as to increase the forest cover in the State.
Virbhadra Singh said that overall development of Shimla Assembly Constituency was being ensured and today he dedicated and laid the foundation stones of various projects worth about Rs. 12 crore and few days back projects worth Rs. 22 crore were inaugurated and foundation stones laid in Shimla Assembly Constituency.
Chief Minister said that the State Government has opened 17 Senior Secondary, High and Middle Schools during last one year in the area to provide quality education facility to the students at their door steps, adding that Science classes has also been started at Government College, Sunni and Government Senior Secondary School, Hanog-Dhami. He said that 50 bedded hospital at Sunni would be constructed by modern pre-fabricated construction technology within four months. The building would be earthquake resistant and fire proof. He said that State Government has opened three Industrial Training Institutes at Dargi, Jalog and Sunni.
Mahender Stan, Chairman, Shimla-Kinnaur APMC, Pramod Sharma, BoD Member, State Industrial Development Corporation, Chander Shekhar, Member, Executive Council, Himachal Pradesh University, Mustaq Qureshi, Member WAQF Board, T.G. Negi, Advisor to Chief Minister, Sanjay Kumar, Director General of Police, Dinesh Malhotra, Deputy Commissioner, Abhishek Dullar, Superintendent of Police, senior officers and prominent persons of the area were also present on the occasion.