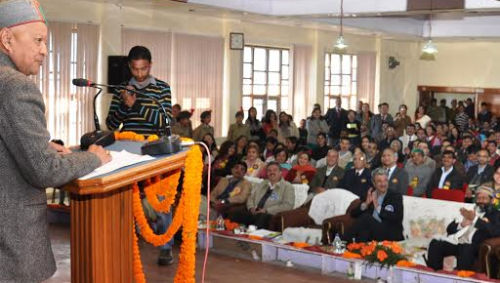 The Government was endeavoured to create best educational infrastructure in rural and far-flung areas of the State so that the students in such backward areas may be provided quality education at par with the students of urban areas, stated Chief Minister Virbhadra Singh while presiding over the Founder's Day function organized by the Alumni Association of Rajkiya Kanya Mahavidyalaya (RKMV) here, today.
He said that emphasis had been laid on developing proper infrastructure and providing other facilities besides deployment of requisite staff in all the educational institutions of the State.
Virbhadra Singh said that it was his government's priority to provide best educational facilities to all students, besides providing best working conditions so that they could get best education based on moral values.
Chief Minister said that RKMV had set high standards of quality education and it had distinction of being the only college for girls in the State. This college was fast developing as a centre of excellence catering quality education and government would provide every possible assistance to create more infrastructure and related facilities in the college. He said that he had already announced to construct a new multi-storied block of RKMV by demolishing the older one and the work on new block would start soon. He directed the Public Works Department to complete the construction work in a years time.
He announced a grant of Rs. 3 Lakh to the Alumni Association of RKMV. He also released the Souvenir brought out by the Association to commemorate the Founder's Day Function.
Chief Minister was also presented a cheque of Rs. 31,000 towards Chief Minister's Relief Fund by the PTA Association of the college.
He also honoured the members of the Association with souvenir on the occasion. Meera Ahluwalia, Principal, RKMV honoured and welcomed the Chief Minister. A documentary highlighting the historical background and memories of the college alumni was also shown on the occasion which got wide appreciation.
Meera Singh, President of the Association proposed the vote of thanks. Sanjay Chauhan, Mayor, Prof. ADN Bajpai, Vice Chancellor, HP University, Harish Janartha, Member, Executive Council, HP University, Dharam Pal Thakur, Member BoD, HIMURJA, Dinkar Burathoki, Director, Higher Education, Suman Rawat, Joint Director, YSS, Manjusha Pathania and Saroj Jaswal, OSD's Education Department, ex-students of RKMV and ex-principals of various colleges were present on the occasion.