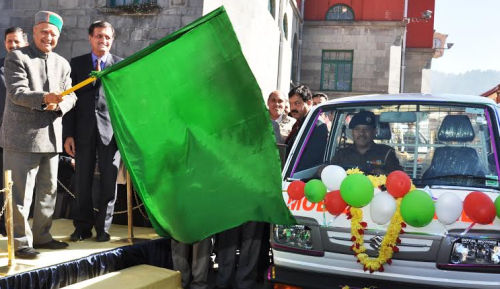 Chief Minister Virbhadra Singh flagged-off the mobile canteens provided by the State Prison Department to be operated by the prisoners to earn their livelihood from here today.
He said that State Government had declared one barrack each in six jails as open air barracks in addition to Bilaspur open jail. In its endeavour to bring more reforms and transformation in the lives of inmates, the concept of mobile canteen was a new chapter.
Shri Virbhadra Singh said the inmates who were showing good conduct should be given a chance to bring reform in their lives so that they could start a new life with new confidence after completing their sentence. The inmates were being given training in different trades and efforts were on to upgrade their inherited skills so that they could adopt self-employment avenues after coming out of the jail.
He said that the experiment of open jail concept in Bilaspur town had been very successful where the prisoners were working in the day time to earn money and thereby enabling them to support their families.
Chief Minister lauded the efforts of the Prison Department to initiate this concept in the State which was being followed by various countries. He added that Himachal Pradesh was the first State in the Country to start video conferencing facility for the prisoners.
S.R. Mardi, ADGP (Prisons) while welcoming the Chief Minister said that three mobile canteens had been sponsored by UCO Bank, Punjab National Bank and Oriental Bank of Commerce under their social corporate responsibility. These would be used for providing mobile canteen facility by the inmates of Model Central Jail Kanda (Shimla), Distract Jail Dharamshala and Sub-Jail Solan. The expenditure to be incurred for running the Mobile Canteens would be borne out of the project and prisoners would be given wages as per Government notification.
He said that efforts would be made in the near future to purchase four mobile vans for the remaining jails. An orchestra band had also been established by the Department for the prisoners at Nahan to facilitate them to earn income by giving shows during various occasions in the State.
Arvind Sharma, AIG, Jails proposed vote of thanks. Sanjay Chauhan, Mayor, V.C. Pharka, Principal Secretary to the Chief Minister, Dinesh Malhotra, Deputy Commissioner, Satvant Atwal, DIG, Prem Verma, SP Jail, Abhishek Dullar, SP Shimla, SDM G.C. Negi and other senior officers of the Prison Department and prominent people of the town were present on the occasion.