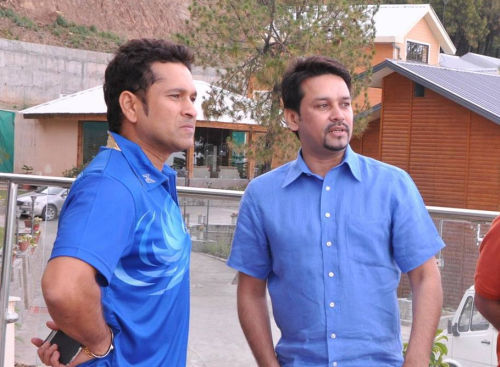 Dharamshala: The Himachal Pradesh Cricket Association (HPCA) today announced to open a world class cricket museum dedicated to cricket maestro, Sachin Tendulkar, in the HPCA Dharamshala stadium premises.
The decision was taken in executed committee meeting of HPCA held here today. The meeting was presided over by HPCA chief, Anurag Thakur. "We want to celebrate Sachin's retirement in a special way. We will be opening a world class cricket museum in International Cricket Stadium Dharamsala with special enclosure named after the greatest contemporary batsman," Thakur said in a press after the meeting.
Thakur informed that a wax statue of Sachin will be installed in the museum. He apprised that "Besides, his belongings particularly cricket kits that includes gloves, pads, dresses, bats and other things which he used on different times during his international career will be displayed in the museum." HPCA is also mulling to enroll experts to make museum one of its kinds in the world.
Thakur also informed that a museum committee has been constituted for the purpose which recommend upon the things to be included in the museum. Thakur said
"The committee will also identify a suitable place in the stadium complex for the museum. We will decide upon whether to open the museum in existing structure or construct it separately,"
He stated that museum will be a small tribute by the Himachal Pradesh cricket association to the greatest son of Indian cricket, who has inspired generations of cricketers across the world. He informed that the museum would also have details of Indian cricketing history and players who have contributed to the development of the cricket and brought glory to the country.