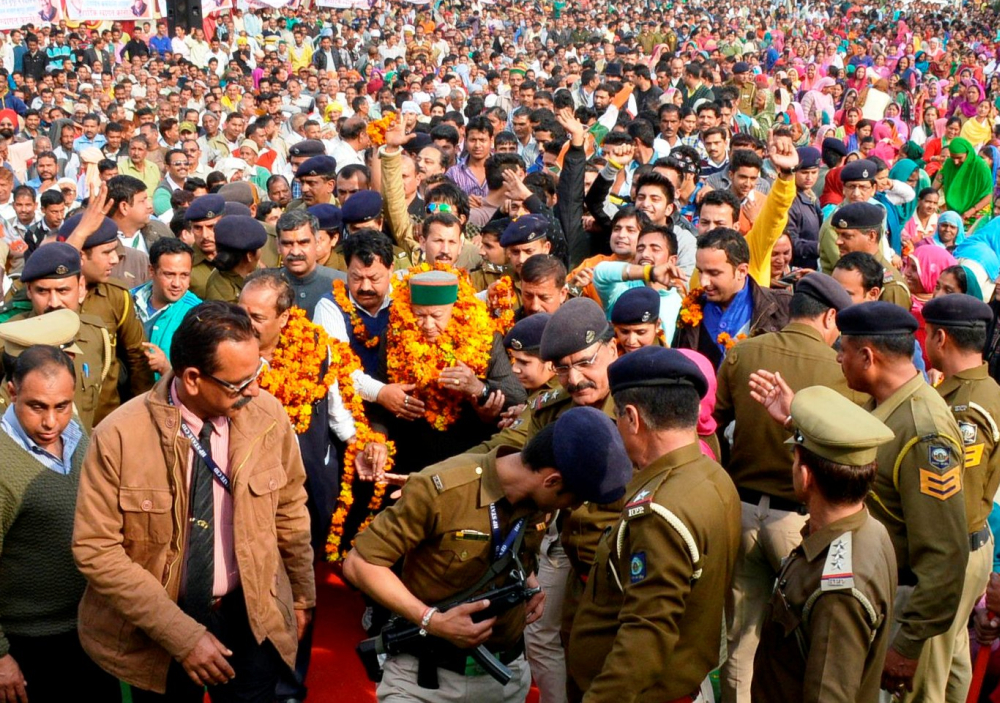 Chief Minister Virbhadra Singh disclosed that process of taking over the Nurpur Chougan (ground) from Himachal Pradesh Cricket Association (HPCA) was almost complete.
In his address at Nurpur, CM said it would be converted into a multipurpose stadium for hosting various games and organising festivals. He said that government was keen to promote all games in the State and this ground would facilitate the players and in organizing various sports events.
Later the Chief Minister inaugurated link road from Jounta to Mat Maled near Khajjian completed at a cost of Rs 1.90 crore and laid foundation stone of link road from Mat-Maled to Mehalri.
He also laid foundation stone of augmentation and improvement of lift drinking water supply scheme Rinna at Nagni with an estimated cost of Rs. 12 crore. This scheme will benefit population of 24443 including floating population and will cater to needs of other seven water supply scheme till the year 2034.
The Chief Minister also laid foundation stone of link road with bridge across Jabbar Khud from Badhui to Baral (via Thora school) to be completed at a cost of Rs 2.85 crore and also laid foundation stone of setting up 21 tube-wells for the nearby areas at Pucca Talla near Kandwal to cost Rs.16 crore.
During his address in a public meeting at Jassur Virbhadra Singh announced up-gradation of over dozen schools besides construction of various link roads and other developmental projects.
The Chief Minister announced to construct a community hall at Jassur. He also announced for construction of college building on the land already identified, besides opening veterinary dispensary at Nurpur and upgraded Health Sub Centre as PHC in Nagni.
He announced to construct foot bridge at Letri, link road to Damoustees Mohalla at Nagabari, link roads from Jassur to Jach via Macchi Bhawan, from Battu Nallah Jatoli to Dhadh Thora, Sukhar Thathar to Sarnooh, Pargana to Badhui via Dewan Khana, Link road Bharodian ka Talab at Hatli to Village Har and link road from Matholi Hanuman Mandir to Kamnalah.