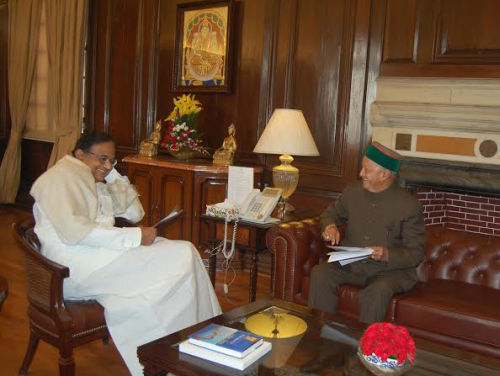 The education sector has always remained topmost priority of Congress led Governments in the State and today Himachal Pradesh has emerged as one of the pioneering State in this sector. This was stated by Chief Minister Virbhadra Singh while presiding over the annual prize distribution function of Government Senior Secondary School, Khalag near Jubbar Hatti in Shimla district today.
He said that all the infrastructural facilities were provided to Khalag School during his earlier tenure as Chief Minister and the school had also started Science and Commerce Streams. He expressed happiness that the students of this school were excelling in academic and other co-curricular activities.
Virbhadra Singh said that he was representing Shimla Rural Constituency which was spread wide in area i.e. from Jubbarhatti to Kumarsain. Though this area was close to State capital but there was still a need to give pace to development of the area adding that sincere and dedicated efforts would be made for the development of roads, adequate drinking water, irrigation, power supply and other facilities.
Chief Minister said that 17 schools had been upgraded in this constituency including seven Middle, five High and five Senior Secondary Schools. The science classes had been started in Government College, Sunni and GSSS, Dhami, science and commerce classes had been started in GSSS Khera, and commerce in GSSS Totu.
Chief Minister said that school ground of GSSS, Khalag would be expanded. He directed the Director, Higher Education to explore the possibilities of providing Music teacher and Sanskrit lecturer for Khalag School.
He said that a Primary Health Centre would be constructed at Sharda and Dental and Nursing College was being shifted from IGMC Shimla to Ghandal near Ghanatti in Shimla rural constituency to decongest the premier hospital. A shooting range would also be established at Nehra. He said that Nehra Lift Irrigation Scheme would be constructed by spending Rs. 86 crore to benefit 25 panchayats of Thali, Rampur and Keonthal area. The drinking water augmentation scheme for Sunni would be constructed to benefit 12 Gram panchayats of the area. He said that 24 roads would be constructed by spending Rs. 100 crore in the Shimla rural constituency.
Virbhadra Singh said that previous BJP Government had not replaced and purchased new buses as per requirement. He said that old and non functional buses were grounded to avoid mishaps and decision had been made to purchase 1000 new buses to facilitate the commuters.
Earlier, Chief Minister laid foundation stone of GSS Khalag boundary wall to be constructed at a cost of Rs. 20 lakh. He also inaugurated Arts, Cultural and Study block of GSSS Khalag constructed at a cost of Rs. 11 lakh by School Management Committee (SMC). He also released school magazine- 'Anokhi Dali' and distributed prizes to the meritorious and outstanding students of the school.
Principal, GSSS Khalag Hardev Singh welcomed the Chief Minister and read the annual report of the school.
Chairman H.P. State Marketing Board Dr. Subhash Manglet, Member BoD HPSIDC Pramod Sharma, Advisor to Chief Minister T.G. Negi, Deputy Commissioner Dinesh Malhotra, S.P. Abhishek Dullar, Chief Engineer PWD D.K. Nayar, Director Higher Education Dinkar Burathoki, Chairman SMC Khalag Kush Verma, President Gram Panchayat Dhamun Ram Dayal Thakur and other Pradhans and Up-Pradhans of nearby Gram Panchayats and prominent persons of the area were present on the occasion.