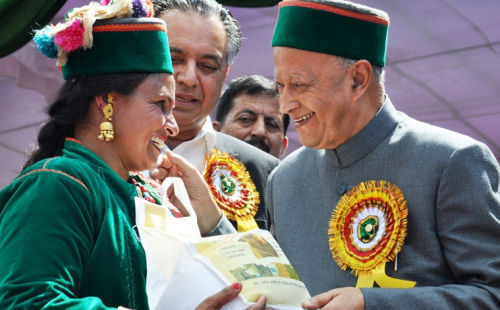 Ensuring Food Security for all is of prime significance and the present State Government is putting in sincere efforts to make essential commodities available at affordable price to all through 4762 fair price shops.
Besides implementing State Food Subsidy Scheme which was started in the previous tenure of Virbhadra Singh led Congress Government, the State Government has also launched ambitious Rajiv Gandhi Ann Yojna under the ambit of National Food Security Act.
The objective of the Rajiv Gandhi Ann Yojna is to provide Food Security to targeted groups. This scheme would benefit about 37 lacs consumers of the State and they would be provided five kilograms of food grains per person per month at subsidized rates under Targeted Public Distribution System (TDPS). Every eligible person would be given three kilogram of Wheat at Rs.2 per Kg and 2 kilogram of rice at Rs.3 per Kg under the scheme.
All 1,96,654 Antodaya ration card holders would continue to receive 20 kilogram of wheat per family at a rate of Rs.2 per Kg and 15 kilogram of rice per family at Rs.3 per Kg. 2728 beneficiaries under Annpurna Scheme would keep on getting 10 kilogram of additional rice free of cost.
State Government has decided to convene a special meeting of Gram Sabha in all the 3243 Panchayats to select rest of the eligible families under this scheme. Instructions have been issued to all the Deputy Commissioners to ensure that Special Gram Sabha meetings in their respective jurisdictions are convened on the 1st of December 2013 so that all left out eligible families may be identified to be incorporated in Rajiv Gandhi Ann Yojna. In these Special Gram Sabha Meetings, first priority would be given to those families who are already being covered under Antodaya and Annpurna Schemes. Such families who do not have any employed person would be identified afterwards. Complete information regarding this scheme would also be given in these special Gram Sabha meetings. Action will be initiated against those Gram Panchayats who do not complete the entire process within the prescribed time limit.
All BPL families, persons who are getting Social Security pension or leprosy pension, destitute females and Tibetans with PDS permit would be automatically covered under the scheme.
The scheme also envisions women empowerment and it has been decided to issue Ration Card of the beneficiary family in the name of senior most adult female member of the family. In case the eligible family has no adult female member, then the Ration Card will be issued in name of male head of the family and would be transferred in the name of female member as soon as she turns 18 years of age. Under the scheme every eligible pregnant women and lactating mother shall also be entitled to rich protein meal, free of cost during pregnancy and six months after child birth through the local Aanganwadi Centres.
Vigilance Committees have been constituted at State, District, Block and Fair Price Shop level for successful implementation of this scheme and a toll free help line number 18001808026 has been set up in the Directorate of Food and Civil Supplies for redressal of public grievances. District Public Grievances Redressal Officers have also been nominated. Door Delivery Scheme up to Fair Price Shops of State Civil Supplies Corporation is also being started shortly on pilot bases in Kangra district so that people gets food grains without delay. The present storage capacity of Corporation is 55371 Metric Tonnes (MT) and that of Food Corporation of India is 34730 MTs. Efforts are being made to augment the same. A proposal worth Rs.16.67 crore for end to end computerization has been submitted to Central Government for more effective functioning of the scheme.
In order to provide succour to every family of the state, the State Food Subsidy Scheme under which three pulses, edible oil and salt is being provided on subsidized rates to all 16,99,255 ration card holders would continue. State Government has recently decided to increase the outlay of the scheme from Rs.175 crore to Rs. 237 crore.
The initiative of the State Government by launching this scheme has provided the 'right to food' to the people of the State which they can claim as a right.