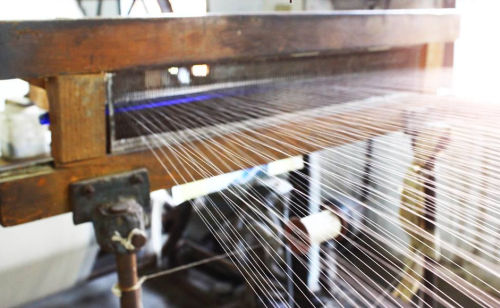 The State Government initiated the measures for revival of the only Silk Mill in the State which is one of the oldest heritage Mill situated at Bodh in Nurpur Tehsil of district Kangra. The unit has traversed through many ups and downs from last 50 years and now is going to celebrate its Golden Jubilee from 12 June, 2014.
Himachal Pradesh General Industrial Corporation (HPGIC) intends to celebrate this year as 'Silk year' with many more varieties, great offers and innovative plans across State and also in the neighbouring States. The Government is committed to make it a profit earning unit and step up measures for boosting the economy of the people of the area by imparting training and involving them in silk manufacturing.
From last around one and half years, the present government focussed on its revival to make this industry viable unit for people of Himachal Pradesh and due to its earnest efforts the mill is recuperating from the losses. HPGIC being its parent body has been working seamlessly for its revival and aggressive campaign is going on to revive this segment and extend its reach far and wide.
It was in the year 1963 when government of Punjab established the unit at Nurpur and intended to make it Silk centre of entire North region. The then Deputy Commissioner of sericulture was handling its operation. On 9th June 1964 it was ready for commissioning and started functioning with yarn manufacturing and the central controlling body to manage silk business. In November 1969, it came under the control of Himachal Pradesh Mineral and Industrial Development Corporation (HPMIDC).
After the formation of Himachal Pradesh, Carpet manufacturing unit was merged with it. In 1976, it started manufacturing silk fabric and initially 40 grams Chinnon and Chiffon produced by it became famous across the North India. In 1988, HPGIC took charge of this industry and since then there was no looking back and efforts were made to revive it along-with exploring marketing avenues.
Sensing the importance of the Silk Mill, the present Government from last 10 months concentrated on making from designer sarees, Suits, Shawls, Stoles, Jackets, Scarf's, and innovative fabric with various design variations apart from the traditionally produced Silk Sarees and Suits. The Mill today extends its offerings to customers with Trading items like Banarasi Saree's, Dupion, Bed linens, towels and other fabrics and it was the first time that blends of Pure Wool with Silk and Pure Modal with silk has been introduced. As of now, apart from producing silk fabrics for women, the unit intends to make Kurta Pajama's, Shirting and Shawls in men's segment.
With efforts of the State Government and special focus on its revival by the present State Government the production surpasses the records of past few years.
From past eight months, Nurpur Silk Mill is being projected aggressively not only in Himachal Pradesh but also in neighbouring States as well so as to make people aware about the quality fabric and designer products under the brand name of "Himachali Silk".
To ensure its maximum reach through the State the Unit exhibited its products in biggest fairs of the Himachal Pradesh like Kullu Dusherra, Lavi, Winter Carnival, Manali, Mandi Shivratri and Shimla Summer Festival etc. The HPGIC also showcased and attempted sale of designers product in Dalhousie, Macleodganj (Dharamshala) and at Army Cant, Yol with a motive to maximise and popularise the Himachali silk.
The Corporation has already tied up with National Institute of Fashion Technology (NIFT), Kangra for technical designing in various outfits for ladies, gents as well as for teenagers.
To increase clients of Silk fabric, The State Government has showcased the Silk fabric at locations of HPTDC at Shimla, Manali and Dharamsala to start with and making the world tourist aware of Himachal Silk which is being presently seen at par with Kanchipuram, Mulberry, Tassar, Eri etc.
It is due to the initiative of the Congress Government in the State that Himachal Pradesh is progressing on the path of being as a role model unit for Silk, as currently there is no other Silk Mill unit in government sector in entire north.