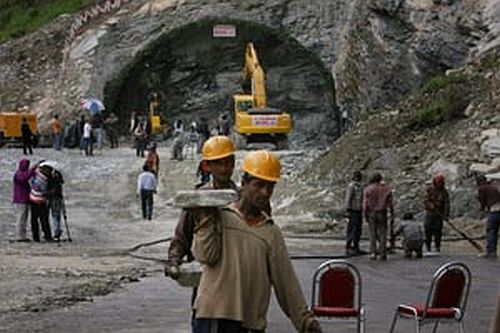 To end the perpetual isolation of Lahoul & Pangi and uninterrupted supply of Ration, arms and ammunition and petroleum products to the northern sensitive borders at the shortest time has become a reality with the start of Technical kick beneath Rohtang Pass through a Tunnel. BRO is the nodal agency and 8.8 Kms long tunnel is being constructed by AFCON and Strabag Company in collaboration, after its inauguration on dated 29th June, 2010 by UPA Chairperson Sonia Gandhi. 8.8Kms long tunnel will be the longest road tunnel in India and expected to reduce distance between Manali & Keylong by 60 Km.
Any planning for this region proved futile exercise without taking into consideration the Rohtang factor, which since time immemorial had been hindering the socio-economic life and development of the area. The biggest hurdle to approach this area is Rohtang, which means heap of dead bodies.
This pass is always considered a wind trap in itself and historically has a sinister reputation. In 1862, 72 labourers had lost their lives while crossing the Rohtang pass. In another accident, 158 labourers from Baltistan lossed their lives near Rohtang in October 1886. In the month of October 1912 hundreds of pack and riding ponies had perished in a snow blizzard on the slope of Rohtang towards Marhi.
In September 1952, within 2 days eight feet of snow in Lahoul valley destroyed all the standing crops and Rohtang closed and no alternative was available to transport food items from Kullu and Manali. That time food items were air dropped.
Notwithstanding, it takes its toll of lives every year, and there is a saying in Lahoul that Two brothers of one family never should cross the Rohtang on the same day. Keeping in view the hardship suffered by the Tribal People and the renewed threats on the northern borders, in wake of increased military deployment along the Pakistan and Chinese border, India Govt. finally decided for a permanent solution by constructing a Tunnel, so that hassle free road communication can be provided to the users.
This decision will not only save the time of military movement and supply, but also save the crores of rupees of recurring expenses being spent every year for maintenance and clearance of snow on Rohtang pass and also it will reduce cost of air lifting operations.
The Rohtang tunnel project was conceived in 1983 and announced by Vajpayee on 03rd June, 2000. This tunnel will facilitate all weather road routes to strategically important area of Ladakh and provide year long connectivity to Lahoul Spiti & Pangi.
By: Mohal Lal Relingpa