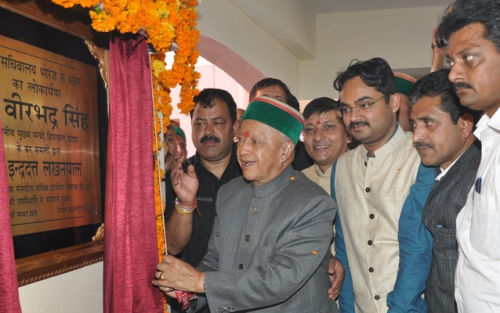 Bhoranj: Chief Minister Virbhadra Singh inaugurated five storied Mini Secretariat building at Bhoranj in Hamirpur district today constructed at a cost of Rs. 10 crore. The newly constructed building would house offices of Sub-Divisional Magistrate, Treasury, Tehsil Welfare Officer besides facilities like parking, canteen, Sugam Kendra, Post Office, ATM, Litigant Hall, Circuit Court etc.
Chief Minister also performed the foundation stone laying ceremony of Police Post Building at Tauni Devi to be constructed at a cost of Rs. 66.64 lakh. Later, addressing a public meeting at Bhoranj, Chief Minister said that founder of Himachal Pradesh Dr. Y.S. Parmar had played important role in development of the State. He said that Dr. Parmar laid the roadmap for development of the State and today the State had emerged as role model of development in the country. He said that Government Senior Secondary School, Bhoranj was named in his name.
Virbhadra Singh said that overall development of Hamirpur district had been ensured during the regimes of Congress Governments. He said that all the big projects in the district were set up during Congress regimes and approval for setting up Mini Secretariat was given during his tenure. He said that the State Government was ensuring uniform and balanced development of the State without any discrimination. He said that development of every area and village was the sole motto of the State Government.
Singh also take a dig on previous BJP Government and said that BJP Government headed by Prem Kumar Dhumal made hollow promises with the people of the State and he used his position for victimization of his political opponents. He said that Prem Kumar Dhumal remained the Chief Minister of the State for two time but he loves only power not the State. He said that though he had ideological differences with former Chief Minister Shanta Kumar but he was a decent personality.
Virbhadra Singh announced Rs. 17.39 lakh for developing Sports ground of the GSSS Bhoranj and upgradation of Kanjsiyan High School to Government Senior Secondary School. He said that Community Health Centre, Bhoranj would be upgraded and facility of additional beds would be provided besides deploying specialist doctors to provide better health services. He also announced to develop infrastructure and appointing additional staff in degree college, Bhoranj.
Inder Dutt Lakhanpal, Chief Parliamentary Secretary said that the State Government under the visionary leadership of Chief Minister Virbhadra Singh had given added pace of development to Hamirpur district. He said that previous BJP Government had made many announcements regarding road, education and health but nothing had been done at the ground level.
Earlier, Rajesh Thakur, Vice President, District Congress Hamirpur welcomed the Chief Minister. MLAs Rajender Rana, Ajay Mahajan, General Secretary, Pradesh Congress Committee Sunil Bitu, Vice Chairman, Kangra Central Cooperative Bank Kuldeep Pathania, former Chairman, Himachal Pradesh School Education Board B.R. Rahi, Chairman, Advisor to Chief Minister T.G. Negi, Inspector General of Police Shri P.L. Thakur, Deputy Commissioner Ashish Singhmar, Superintendent of Police Veena Bharati, other senior officers and prominent persons of the area were present on the occasion.