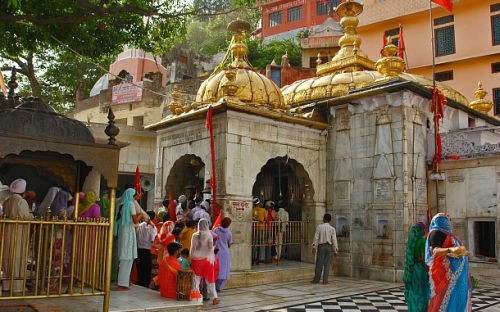 Devoted to Goddess of light, Jwalamukhi Temple in Kangra district of Himachal Pradesh is one of the most popular temples in northern India.
It is one of the 51 Shaktipeeths, and according to legends the Jwalamukhi temple is believed to be the place where tongue of Sati fell after the Daksha-Yajna event.
One interesting fact of the temple is that unlike other hindu temples there is no idol in the temple. A blue burning and shining flame coming out of the rocks and it is considered as the manifestation of the deity of Flaming Mouth, Jwalamukhi.
According to a legend about the temple, the flames came out of the mouth of demon Jalandhara whom Lord Shiva defeated.
Situated at an altitude of 1737m, the temple is 56 km from Dharamshala and 35 km from Kangra.
A canal originated by a spring high above runs along the temple which is believed to be constructed by Emperor Akbar to douse the flame. All his attempts failed and he got really influenced by the power of the goddess. Akbar became a devotee of the goddess, and he presented a gold umbrella to the Jwala Mata. The god umbrella is still present inside the temple, it was however turned to copper by power of the deity.
In the year 1809 Maharaja Ranjit Sigh and his son Kharak Singh presented a pair of silver plated folding doors and gilt roof to the temple.
Lakhs of pilgrims from most parts of the country throng to Mata Jwalamukhi temple every years. Long queues of devotees can be seen there.