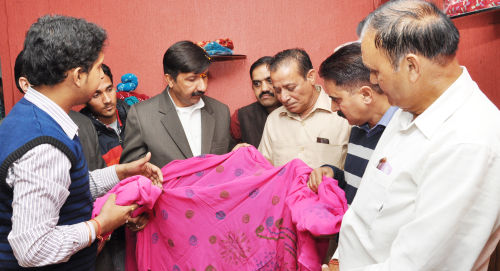 Shimla: The State Government would ensure revival of Nurpur Silk Mill in order to promote sericulture and silk industry in the State. This was stated by Industries, Labour and Employment and IPR Minister Mukesh Agnihotri here today while inaugurating the 'Himachali Silk Design-cum-Sale Studio' of Nurpur Silk Mill at Himrus Building of SIDC here today.
Agnihotri said that the State Government would position silk being produced in the Nurpur Silk Mill as Himachali Silk to compete in national and international platform. He said that the Nurpur Silk Mill was presently producing 100 per cent Silk Fibre and till date it was being sold at its only showroom at factory premises. He said that the State Government was exploring possibility to find a suitable place at The Mall Shimla for setting up Show Room of Nurpur Silk Mill for effectively reaching out to the consumers. He said that in addition, Sale Counter-cum-Display Kiosk would be established at Himachal Bhawan Delhi and Chandigarh. He said that efforts would also be made to establish display Kiosk in major hotels owned by HPTDC.
He said that Nurpur Silk Product would be exhibited during various fairs and festivals organized in the State. He said that this would not only promote silk products in the State but also ensure financial viability of Nurpur Silk Mill. He said that adequate staff would also be provided in the Mill for its smooth functioning.
Industries Minister said that at present the State was producing 22.5 metric tonne raw silk in the State. He said that the State Government would also take up the matter before the Union Government for reviving and strengthening silk industry in the State. He asked officers and officials of the Corporation to adopt pro-active approach in promoting and marketing silk produce in the country.
B.R. Verma, Managing Director, General Industries Corporation apprised the Minister about various steps being initiated to revive Nurpur Silk Mill. Directors, BoD, General Industries Corporation Dr. Biru Ram Kishore and Sanjeev Kumar Saini, Managing Director, State Financial Development Corporation Ajay Bhandari, Director Industries Mohan Chauhan, Rajender Singh, Managing Director, SIDC, Nandita Gupta, Labour Commissioner and other senior officers were present on the occasion.