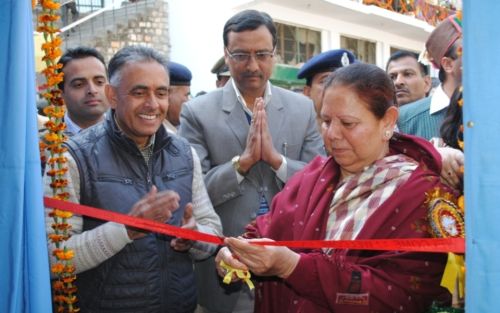 The 'International Lavi Trade fair' begins at Rampur today. Governor Urmila Singh inaugurated the four-day long traditional trade fair.
This fair has remained an important trade fair between India and Tibet for centuries, and is a unique example of the glorious, social, cultural, economic history and legacy of Himachal Pradesh. It is the biggest trade fair of the greater Himalayas.
The history of Lavi fair goes back in ancient times, as Tibet and Kinnaur had good trade relations and Lavi fair is the outcome of business interest of both sides. Even today, the tradition is as vibrant as ever. By the churning waters of the river Sutlej, a variety of goods including wool, dry fruits and horses are bartered and sold.
While speaking on the occasion, Governor Urmila Singh said that Lavi fair had its own historical importance and was famous for business activities. She said that laudable efforts had been made to preserve its old glory and added that it also provided an opportunity to the locals to sell their products during the fair, besides providing a platform for cultural exchange. She said that products made by self help groups especially of women should be promoted in the State and sustainable market should be provided to all such products, so as to strengthen women's economy in the State.
She said that fairs and festivals played an important role in preserving the rich cultural heritage of the State. She said that every effort should be made to preserve the cultural heritage and to restore the old glory of traditional fairs and festivals as they were symbols of rich culture of the State.
Governor also inaugurated the 'Kinnauri market' and exhibition put up by various government departments and other organizations on the occasion and evinced keen interest in the exhibits.
Subhashish Panda, Deputy Commissioner and Chairman of the Lavi Fair Organising Committee welcomed the Governor and detailed out the activities of the Fair. He also honoured the Governor with Kinnauri Cap, Shawl and memento. A colourful cultural programme was also presented on the occasion. K.R. Saizal, Sub Divisional Magistrate Rampur who is also the Vice-Chairman of Lavi fair organizing Committee proposed vote of thanks.