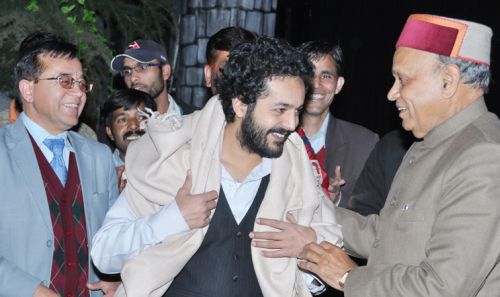 Munish Prem Sharma presented English Play 'Dream of a Ridiculous Man' based on the story of Fyodor Dostovesky with incorporated thoughts of renowned philosophers Albert Camus, Friedrich Nietzsche, Arthur Schopenhauer and Oscar Wilde, at historic Gaiety Theatre. Chief Minister Prem Kumar Dhumal was among the audience and appreciated director and actor's performance. Play was 90 minutes long, but it holds audience spell bound with its strong theme and actor's efficiency.
Chief Minister lauded the play and said that the play carried a message to all human beings to come out of their ignorant attitude and know the realities of the world. He said that theatre happened to be a powerful mode of educating the society and spreading awareness about different aspects which required to be given boost. He said that there was no dearth of talented youth in the State who could earn name and fame through their performances in different theatrical presentations.
Sriniwas Joshi, a Retired IAS officer and litterateur introduced audience to the theme of the play. Ganesh Dutt, Vice-Chairman, HIMUDA, Madhu Sood, Mayor, Municipal Corporation, Shimla, Onkar Sharma, Deputy Commissioner, Prem Sharma, Director of Language and Culture were among other prominent people of the town and theatre lovers were present on the occasion.