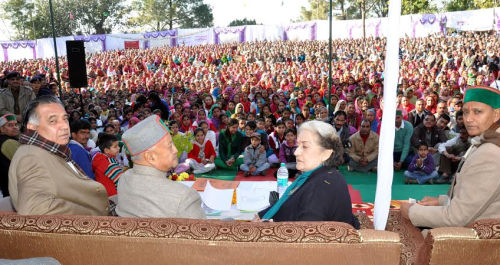 Chief Minister Virbhadra Singh said that the State had made tremendous progress in education sector and emphasis was being laid on providing quality education. He said that he was not against private educational institutes but it would be ensured that they provide quality education, have experienced teaching staff and adequate infrastructure adding that no private institution would be allowed to do business in the name of education.
He was addressing a public meeting at Noura of Sulah assembly constituency in Kangra district today after inaugurating the Administrative and Arts Block of Noura Degree College constructed at a cost of Rs. 2 crores. He inaugurated the Kural lift irrigation scheme completed at a cost of Rs. 1.10 crore which will benefit six villages of the area by providing irrigation facility to 1605.07 hectare of land. He also inaugurated lift drinking water scheme for Thaliyal constructed at a cost of Rs. 88.30 lakh and it will benefit more than 3250 people of the six villages.
The Chief Minister announced to upgrade Primary Health Centre Dheera as Community Health Centre and government high school Dheera to government senior secondary school. He said that separate science and commerce blocks would be constructed for Naura College. He also announced Rs. 25 lakh for construction of multipurpose sports stadium for the college and Rs. 50 lakh for constructing bus stand at Pudhwa.
Irrigation & Public Health Minister Vidya Stokes said that the State government had initiated various programmes for the welfare of all sections of the society and uplift of the weaker sections had remained the top priority of the government. She said that Water Policy-2013 had been approved by the State government and dinking water and irrigation facilities were being strengthened in the State besides starting new schemes for the benefit of the people.
Food & Civil Supplies Minister G.S Bali said that Congress government had invested Rs. 700 crore on developing Tanda Medical College as super specialty hospital and the work on this project would be completed in next two months. The facility of 200 more beds would be added to this hospital to facilitate the patients. He said that 1300 new buses were being added to the fleet of HRTC and more buses would be purchased to facilitate the commuters in the State.
He said that Palampur-Delhi via Changar area bus service would be restarted to facilitate the people of the area. He also announced to start a Mudrika bus service to the area and extend the Dheera bus service up to Naura for the facility of the college students. Bali thanked the Chief Minister for taking over the Badoh College as Government College.
Sudhir Sharma, Urban Development Minister, Chief Parliamentary Secretary Jagjeevan Pal, Pawan Kajal, Sanjay Rattan and Yadnendra Goma, MLA's, Jagdeesh Sipahiya, Chairman, Kangra Central Cooperative Bank, Kewal Singh Pathania, Vice Chairman, State Forest Development Corporation, Manbhari Devi, State Mahila Congress President, C. Palrasu, Deputy Commissioner, Parvez Akhtar, Chief Engineer I&PH and other prominent persons of the area were also present on the occasion.