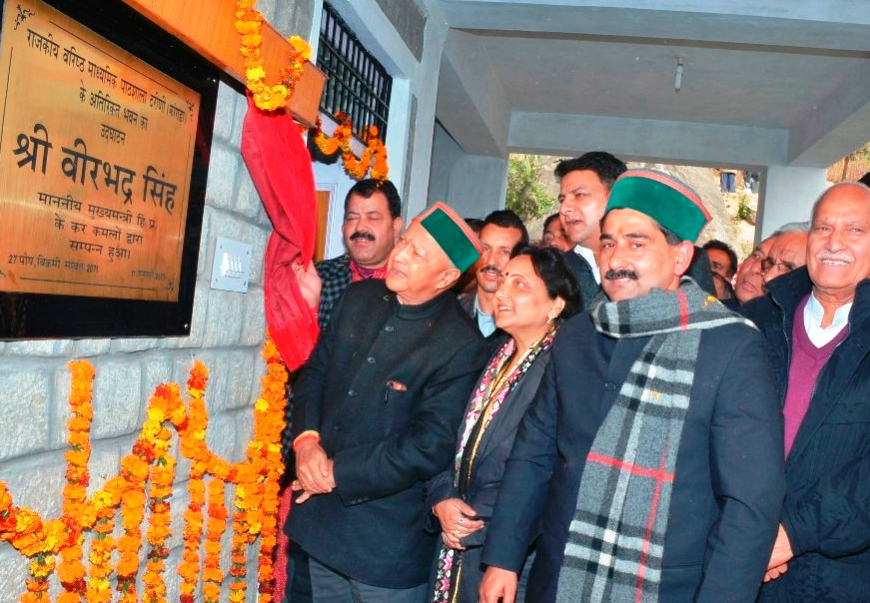 Darini: Himachal Pradesh Chief Minister Virbhadra Singh announced Sub-Tehsil at Darini of Shahpur assembly segment in Kangra district.
New sub-tehsil will facilitate the people of remote Dharkandi area of Kangra district. There will be only five panchayats and five Patwar Circles under this Sub Tehsil.
The Chief Minister also announced opening of veterinary hospital at Darini, two government primary schools at Darhala and Pattal in gram panchayat Dhaler and a science laboratory block for government senior secondary school, Darini.
The Chief Minister also announced construction of irrigation kuhal from Salli to Darini which would be constructed by spending Rs. 2 crore. He announced to upgrade government middle school Bhaler to government high school.
Earlier, he laid foundation stone of kuhal at Gharoh to be constructed at a cost of Rs. 172.26 lakhs which would provide irrigation facility to 135.18 hectares area. He also inaugurated Health Sub-Centre under PHC Darini in Shahpur Block which has been constructed at a cost of Rs. 17.94 lakh. More than 4000 people would be benefited with this Sub-Centre.
Urban Development Minister Sudhir Sharma, MLA Sarveen Chaudhary and other prominent leaders of Kangra were also present on the occasion.