CM offers floral tributes to Mahatma Gandhi and former PM Lal Bahadur Shastri, participates in Cleanliness Campaign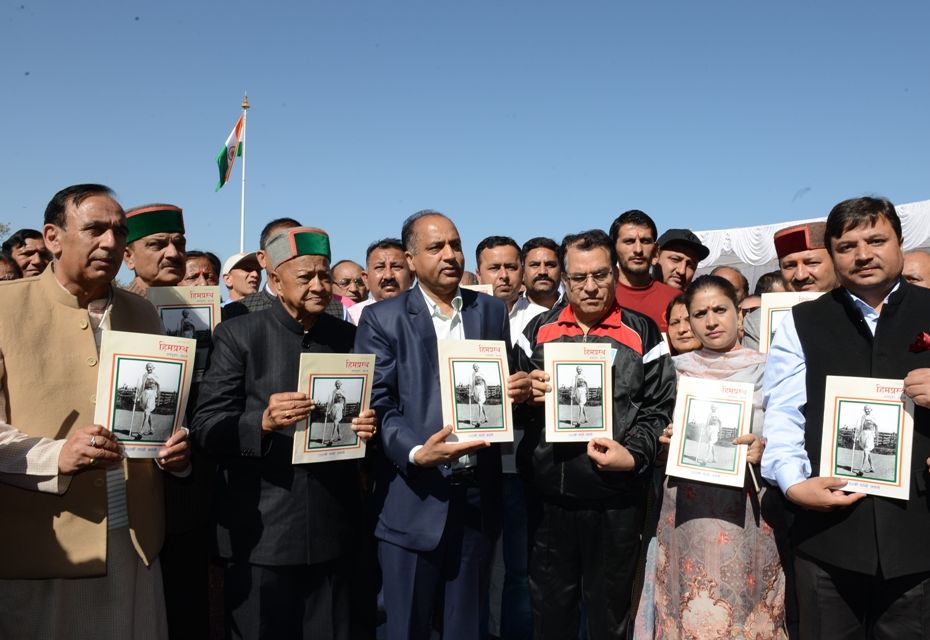 Shimla: Chief Minister Jai Ram Thakur, several other State leaders and people from different walks of life offered floral tributes on memorial of Mahatma Gandhi at the historic Ridge, here today on his 150th birth anniversary.
The Chief Minister also administered the 'Swachhatta Oath' to the people present on the occasion to keep the State clean to achieve the dream of 'Swachh Bharat'.
Chief Minister also flagged off School Children Rally-Run Against Drug Abuse and Awareness on the occasion.
The Chief Minister also offered floral tributes on the memorial of former Prime Minister Late Shri Lal Bahadur Shastri on his 114th Birth anniversary along with Education Minister Suresh Bhardwaj and other leaders including councillors. The Chief Minister termed him as an apostle of peace and harmony.
Earlier, the Chief Minister participated in Swachhatta Abhiyan at Sanjauli on the occasion of Gandhi Jayanti. School children participated with great enthusiasm in the cleanliness campaign launched by the Chief Minister.
Former Chief Minister Virbhadra Singh, Chief Whip and MLA Narender Bragta, MLAs Nand Lal, Vikramaditya Singh and Balbir Singh Verma, Chief Secretary B.K. Agrawal, Political Advisor to the Chief Minister Trilok Jamwal, Additional Principal Secretary to the Chief Minister Sanjay Kundu, Deputy Commissioner Shimla Amit Kashyap, Director Information and Public Relations Anupam Kashyap, SP Shimla Omapati Jamwal and several people from different walks of life also paid floral tributes to Mahatma Gandhi and Shri Lal Bahadur Shastri on the occasion among others.