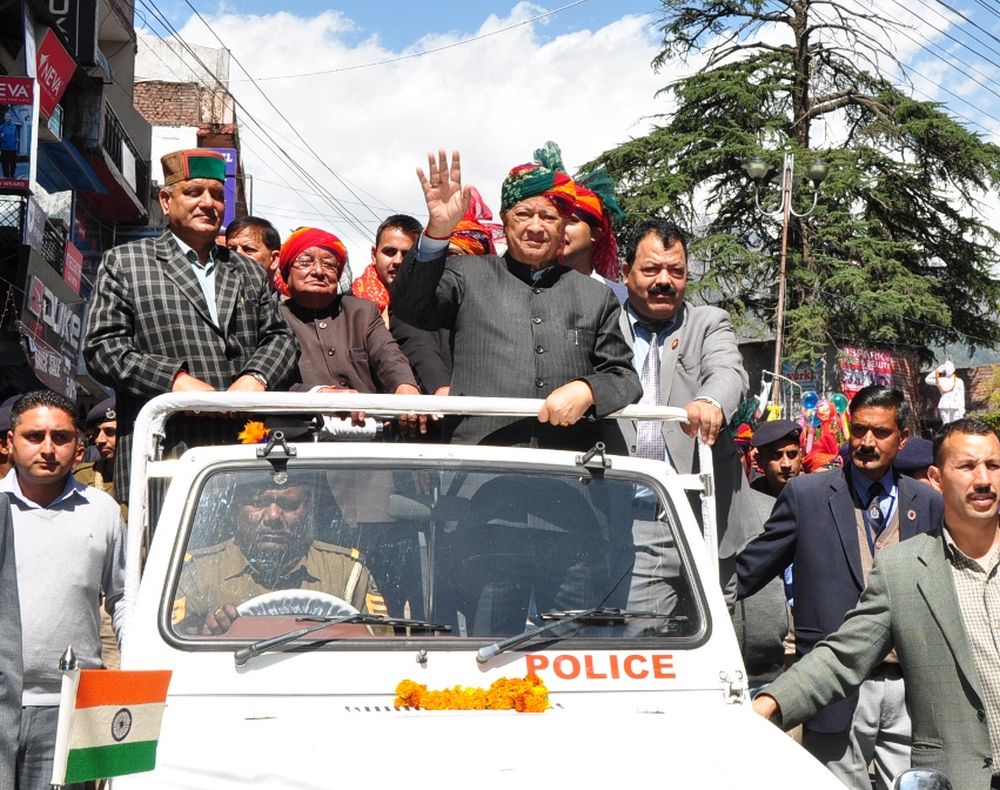 Palampur: Chief Minister Virbhadra Singh inaugurated the four day State level Holi festival at Palampur today. He led the 'Shobha Yatra' along-with Speaker, Himachal Pradesh Vidhan Sabha Brij Bihari Lal Butail and number of other dignitaries.
The procession started from Vikram Batra ground to finally culminate at Gandhi ground amidst beating of drums and trumpets. Adorned in colourful attires and radiant turbans, the people thronged in numbers to participate in the Shobha Yatra.
Virbhadra Singh also declared open the traditional 'Chinj' (Wrestling) by hoisting the 'Lakhdata Peer' flag and performed pooja on the occasion. He also blessed the occasion by terming the Chinj as the ancient leisure wrestling bouts which were quite famous amongst the people of the State. He congratulated the people of the area on the occasion of festival of colours.
He termed Holi as a festival of fraternity and love and exhorted the people to celebrate Holi in its true spirit. He announced indoor stadium to be opened in Palampur and said that the government was endeavoured to open more such stadiums in the state so that the energy of the youth could be channelised in a better way.
Earlier, the Chief Minister laid foundation stone of Godown of Food Corporation of India (FCI), to have a capacity of 1100 MT at Rani Sidhpur to cost Rs.1.50 crore. Once completed, it will enhance the warehousing facility and cater to the requirements of various public distribution shops in Palampur and its vicinity. He also laid foundation stone of Five-storeyed parking complex to be constructed with an outlay of Rs.4.5 crore which will ease the traffic congestion in the town. He also laid foundation stone of Municipal Council office building, Palampur to cost Rs. 48 lakhs and foundation stone of 33 KV un-manned Electric sub-station at Holta to cost Rs. 3.60 crore to be constructed under Deen Dayal Upadhaya Gramin Yojna. The station when completed will solve the low voltage problem besides minimising distribution and transmission losses and benefit as many as 32 thousand people of 19 panchayats of the area.
The Chief Minister also inaugurated liquid Nitrogen Plant at old semen lab in Holta completed with an outlay of Rs.3.60 crore and inaugurated the Rs. 2.78 crore, Embryo transfer technology laboratory at Palampur. He also announced construction of Mahila Mandal Bhawan in Tanda Panchayat in Palampur.