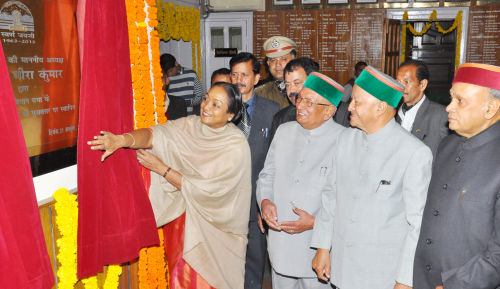 Lok Sabha Speaker Meira Kumar attended the special session of Himachal Pradesh Assembly to mark its Golden Jubilee celebration, which was attended by 85 former legislatures, six former Speakers and several former MPs and sitting legislatures.
Most of political leaders, including six times Chief Minister Virbhadra Singh, Leader of the Opposition Prem Kumar Dhumal, Congress veteran leader Sukh Ram. Former Speakers Vidya Stokes, Kaul Singh Thakur, Gangu Ram Musafir, Gulab Singh Thakur and Radha Raman Shastri also present among others.
Speaker Meira Kumar also honoured four veteran legislatures Nehar Singh of Rohru (two times MLA and member of the Territorial Council in 1957), Padma of Bhattiyat, Ishwar Dass of Ani (seven times MLA) and Sukh Ram of Mandi (Six times MLA and three times parliamentarian and a union minister in PV Narsimha Rao government).
Speaking at the occasion Meira Kumar raised concern over frequent disruptions in Parliament over frivolous issues. He believed that it has lowered the credibility of the institution and also "lethal" for India's democratic system and character. Kumar said that 73.30 valuable hours of Parliament were wasted due to interruptions during its last session. She advised parliamentarians to put forth their viewpoints and should avoid "uncalled for" interruptions.
Calling upon the elected representatives to become harbingers of social and economic change by their "exemplary conduct", Kumar said enactment of stringent laws was not enough and mindset of people needs to be changed as well. "Unless people do not change their mindset, no law however stringent would make any difference.
Lok Sabha Speaker also released a book "Himachal Legislative Assembly: Origin and Growth" and a souvenir.
Speaking at the occasion, Chief Minister Virbhadra Singh said that Golden Jubilee celebration of the Vidhan Sabha function underlines this Assembly's successful glorious fifty years. Singh said that during these five decades of its functioning, the State's Legislative Assembly has established sound precedents and traditions and has reinforced democracy as a whole. He said that Members of this Legislative Assembly have always maintained high dignity and conventions of this House for which we all should be proud.
However, he also raised concern over the increasing trend of disruption of the question hour. He said that it's not a healthy sign for parliamentary democracy like India. Most of the time, due to frequent disruptions, of the question hour in the Parliament/State Legislatures is wasted instead of eliciting information on important public issues from the Government Question hour, the first and perhaps the most informative hour of the day when Parliament/State Legislatures are in session has been the worst victim of disruptions by members of Parliaments and State Legislatures, Singh lamented. This rising tendency of disruptions of the proceedings of the House needs to be curbed and this can be achieved with the collective efforts of the Legislators.
Leader of the Opposition Prem Kumar Dhumal said it was a momentous occasion for the Vidhan Sabha as the completion of 50 years was an important milestone for an institution.
Speaker Brij Bihari Lal Butail informed that the members of the house had been conducting themselves with dignity and the mandatory 35 sittings of the House a year were being ensured. The House Committees had been working effectively. A total of 1,125 legislation were passed over the past five decades.