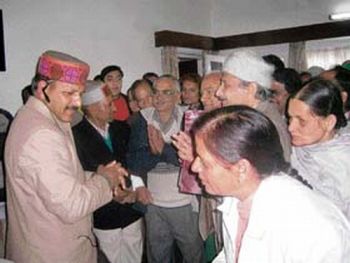 On the occasion of Anti Leprosy Day 30th January, state government is organizing Skin camps throughout the State. Health Minister Dr. Rajeev Bindal asserts that Medical Team comprising of District Leprosy Officer, Medical Specialist/Skin Specialist, concerned Block Medical Officer, Leprosy Worker, Pharmacists, s Male & Female Health Workers had been constituted for the camps.
On 30th January, 2011, camps will be organized at Regional Hospital, Bilaspur, District Hospital, Chamba, Regional Hospital, Hamirpur, District Hospital, Dharamsala, Regional Hospital, Rekong Peo, Regional Hospital, Kullu, Regional Hospital, Keylong, Zonal Hospital, Mandi, Community Health Centre, Paddar, CHC Sunni of Shimla District, Regional Hospital Nahan, CHC, Barotiwala of Solan District and Regional Hospital Una. On 4th February, 2011 these camps would be organised at CHC Ghumarwin, CHC, Choori of Chamba district, CHC, Nadaun, Tiara Thural, CHC Nichar, CHC, Manali, CHC, Lahaul, CHC, Sunder Nagar, CHC, Gohar, DDU Shimla, CHC, Mashobra, CHC, Paonta, CHC, Rajpur, ESI Parwanoo and CHC Haroli, on 11th February, 2011 CHC Markand, CHC, Bharmour, CHC, Bhoranj, CHC, Nagrota(B), CHC, Indora, PHC Pooh, CHC, Banjar,CHC, Udaypur, CHC, Joginder Nagar, CHC Baldawara, MGMSC Khaneri Rampur, CHC Nankhari, CHC, Rajgarh, CHC, Arki and CHC, Gagreat.
On 17th February, 2011, these camps would be organized at CHC, Jhandutta, CHC, Killar, CHC, Sujanpur Tihra, CHC, Gopalpur, CHC, Jawalamukhi, CHC, Sangla, PHC, Jari, PHC, Kaza, CHC, Sarkaghat, CHC, Ratti, CH Theog, CHC, Matiana, CHC, Shilai, CH Kandaghat and CHC Bangana, on 24th February, 2011 at CHC Salooni, CHC, Barsar, CHC, Mahakal, CHC, Shahpur, PHC, Chango, CHC, Ani, CHC, Ladbhadol, CHC, Dharampur, CHC, Kumarsain, CHC, Kotkhai, CHC, Sarahan, CHC, Nalagarh and PHC Chantpurni, on 3th March, 2011 at CHC Tissa, CHC, Taunidevi, CHC, Bhawarna, CHC, Gangath, CHC, Dalash. CHC, Jajhehli, CHC, Sandhol, CH Jubbal, CH Rohru, PHC Dadahu and CHC Sayri, on 10th March, 2011 at CHC Dalhoji, CHC, Nagrota, CHC,Dada Siba, CHC, Nirmand, CHC, Karsog, CHC, Kotli, CHC, Chirgaon, CH Sahan, CHC Sangrah and CHC Dharampur.
Health Minister also announces that medicines would also be provided to the patients during the camps and added that social organizations would be involved to assist skin camps.