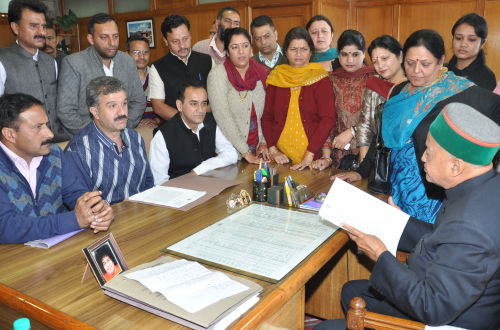 Shimla: A deputation of Municipal Corporation Shimla led by Mayor Sanjay Chauhan alongwith Councillors met Chief Minister Virbhadra Singh here today.
The deputation urged the Chief Minister to transfer the urban forest area within Corporation limit to MC Shimla as it was maintained by the MC Shimla since its inception as a Municipal Body. They told that the State Government had partially handed over urban forest area measuring 842.13 hectare to MC Shimla in 2011 keeping the balance forest areas measuring 1038 hectares and no rights were given to MC Shimla as it had prior to the year 2006. They said that the H.P. Cabinet had decided recently to transfer urban forest area from MC Shimla to H.P. State Forest Department. They also urged to enhance their honourarium.
Mayor Sanjay Chauhan said that the income accrued from urban forest within Municipal Corporation limits was not shared with MC Shimla by the H.P. State Forest Department while they have taken Rs. 10.38 crore since 2011 till now. He said that MC Shimla was paying salaries to the employees of Municipal Forest Department who were on deputation/secondment basis with MC Shimla which sums to Rs. 6,36,295 per month.