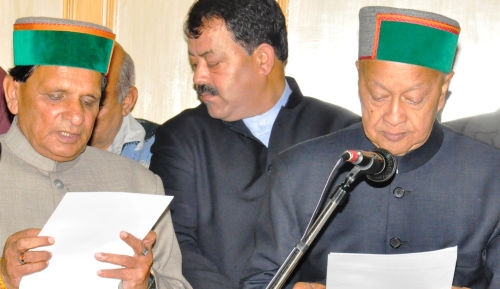 Shimla: Senior Congress leader and Karsog legislature Mansa Ram has been inducted as Chief Parliamentary Secretary (CPS) in the government. Chief Minister Virbhadra Singh administered the oath of office and secrecy to Mansa Ram as CPS at a simple ceremony held at H.P. Secretariat today.
Officiating Chief Secretary P. Mittra conducted the proceedings.
Irrigation and Public Health Minister Vidya Stokes, Health Minister Kaul Singh Thakur, Forest Minister Thakur Singh Bharmori, Excise and Taxation Minister Prakash Chaudhary, Chief Parliamentary Secretaries Nand Lal, Rohit Thakur, Sohan Lal, Vice Chairman National Tribal Commission & MLA Ravi Thakur, Advisor to Chief Minister T.G. Negi, Principal Private Secretary to Chief Minister Subhash Ahluwalia, Secretary GAD Subhashish Panda, Senior Medical Superintendent IGMC Dr. Ramesh Chand, senior officers and people in large number were present on the occasion.
Earlier he was appointed as Pro-tem Speaker of Himachal Pradesh State Legislative Assembly.
Mansa Ram hails from Drahal village of Karsog in district Mandi. He graduate from (Punjab University) & BL(Agra University). He began career as Government teacher, but resigned in January 1967 to join politics. he was elected to the State Legislative Assembly in 1967 for the first time and re-elected in 1972, 1982 and 1998.
Mansa Ram also remained Minister of State for Industries, March 1972-June 1975; Minister of State for Welfare, June 1975-1977 and 1982-85; Food and Civil Supplies Minister, 1998-2003.