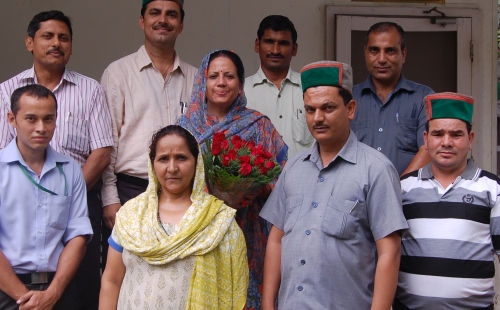 Pratibha Singh, Member of Parliament called on Union Railways Minister Mallikarjun Kharge at New Delhi and requested him to strengthen Railway network in the State. She apprised him that State had remained neglected in terms of railways expansion and requested him to accord top priority to the railways projects of the State. She demanded that Bilaspur-Bhanupali-Manali-Leh railways line should be declared as project of national importance and should be fully funded by the Union Government keeping in view of its strategic importance from defence point of view. She requested for adequate budgetary allocation for early and timely completion of Nangal-Talwara Railway line, work of which has been going on snail pace from many years. She also urged for Broad Gauge Railway line from Kalka to Baddi keeping in view of the growth of industrial sector in the region.
Pratibha Singh demanded the fresh survey of railways over bridges and railways under bridges on the Shimla -Kalka line to assess the strength of these bridges and told that these bridges were around 100 years old and had gone in bad shapes due to continuous use in these years besides, reconstruction of various bridges on the Shimla -Kalka lane. She also demanded that all the tunnels on Shimla -Kalka railway line should be assessed by the technical experts from passengers safety point of view. She told that railways can play an important role in promoting tourism and economic activities in the state and asked for plying more trains to metro cities from Kalka and Una stations so that tourists could be facilitated. She also demanded railways expansion in Kangra valley which has immense scope for expansions.
Pratibha Singh also met Jitendra Singh, Union Minister of State for Defence in New Delhi and requested him to direct the Border Roads Organization to take effective steps to open all the roads under the organization round the clock on priority basis in the State.
Singh said that Shimla-Kalpa road was the life line of the fruit growing areas of the State which was the main economic activity of the region. She said that since the apple season had already begun in the Shimla and other areas so all the roads should remain open round the clock to facilitate the movement of the trucks smoothly. She told that a Manali-Leh national highway was very important from strategic defence point of view besides to connect the snow bound tribal Lahaul Spiti district with rest of the country.
Mandi MP said that tribal areas were also open for tourists till October and road connectivity was the only mode of transport to these areas. She appreciated the role of Border Roads Organization to connect tribal and difficult areas through road network with rest of the country and urged for deployment of additional manpower and machinery in these areas.
She also requested to provide financial assistance for the construction of sports grounds in each assembly segment of the State under the scheme of Rajiv Gandhi National Institute for Youth and Development.