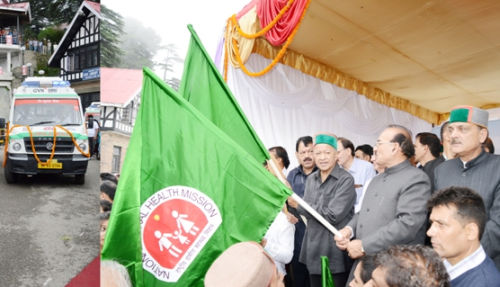 Chief Minister Virbhadra Singh flagged off 50 new Ambulances under, free of cost 108, National Ambulance Service to the people of State from historic Ridge Maidan here today. With these 50 new Ambulances the total fleet of National Ambulance Service had increased to 162 in the State.
Virbhadra Singh said that these 50 new Ambulances were fully equipped and fabricated to provide emergency medical aid to the patients. He said that 125 more small Ambulances would be purchased shortly to facilitate expectant mothers to reach hospitals and back to their homes after delivery with infants. He said that National Ambulance Service had proved a boon to the people of the State as it had benefited more than three lakh patients besides it had handled 2500 fire and 10,000 police related cases since its inception.
Chief Minister said that though these new Ambulances were purchased after two and half years, after this service was started in the State, but these cost less as compared to the purchase made by the previous Government. He said that this Ambulance service was started by Centre Government, but previous Government named it as their own scheme and tried to take un-due political advantage.
Virbhadra Singh said that present State Government had accorded topmost priority to health sector and there would be no dearth of money to provide best possible health care to the people of the State. Besides, the Government was striving hard to put in place a number of initiative in the health sector all aimed at further improving the health profile of the people.
Chief Minister said that State Government had taken up the matter with Centre Government for increasing 50 MBBS seats each in both the Government Medical Colleges i.e. Indira Gandhi Medical College (IGMC), Shimla and Dr. Rajendra Prasad Medical College Tanda, Kangra. He said that he was quite hopeful that Medical Council of India (MCI) would soon accord its approval for the same. He said that the approval had been granted to fill up 475 vacant posts of various categories in the Health Department to provide best health care services to the people at their door-steps.
Virbhadra Singh said that a new campus of OPD Block would be constructed at IGMC Shimla, for which Centre Government had approved the inclusion of IGMC under Pradhan Mantri Swasthya Suraksha Yojna (PMSSY) and Rs. 150 crore would be provided by GoI for it. He said that with a view to de-congest IGMC Shimla, the Dental College and Nursing Institute would be shifted to Gharog near Ghanahti where a new complex would be constructed.
Chief Minister said that Government would ensure that adequate Doctors and Paramedical staff should be posted in remote and far-flung areas in order to serve the people of rural area.
Chief Minister also launched National Rural Health Mission Website, which would provide all updated health related information to the people.
Health Minister Kaul Singh Thakur said that the present State Government had made budget provisions to fulfill more than half of the promises made in the election manifesto during the Assembly election. He said that 100 posts of Doctors would be filled up during current fiscal while 100 more would be filled up in next financial year. He thanked the Centre Government for providing liberal financial assistance to develop the IGMC Shimla as Super Speciality Hospital on the analogy of AIIMS. He expressed happiness over the efficient services being provided by GVK, Emergency Management Research Institute (EMRI) in the State.
Kaul Singh said that ECG machine and snake bite serum had also been made available besides other life saving medicines and equipments in the 108 Ambulance. Adding that these Ambulances leave to the destination within three minutes after receiving the emergency call and reach these within 30-40 minutes, thus helped in saving many precious lives within a golden hour. He said that in times to come this service would be provided within 10 minutes in urban areas to realise the platinum 10 minutes concept. He said that more than 2240 safe deliveries had been carried in the Ambulances itself during journey by the trained staff posted in the 108 Ambulance, besides facilitating 53948 pregnant women to reach nearby hospital.
Chief Parliamentary Secretary (Health) Nand Lal lauded the services rendered by National Ambulance Service and said that this service had revolutionised the emergency Ambulance services in the State.
Earlier, M.D. NRHM Amithabh Avasthi welcomed the Chief Minister. Chief Executive Officer (CEO) GVK EMRI Subodh Satyawadi detailed about the National Ambulance Services and said that Himachal Pradesh was a lead State in the Country in providing best free Ambulance service to the people. He said that there was one Ambulance available per 45000 people in the State as compare to one lakh in the other parts of the country.
Principal Secretary Health Ali Raza Rizvi thanked the Chief Minister. Chief Parliamentary Secretary Jagjivan Pal, Mayor Municipal Corporation Shimla Sanjay Chauhan and Deputy Sayor Tikendar Panwar, Vice Chairman HRTC Kewal Singh Pathania, Deputy Commissioner Shimla Dinesh Malhotra, Chairman HP State Agricualture Bank Devi Singh Jistu, Commissioner M.C. Shimla Amarjeet Singh, Director Health Dr. Kulbhushan Sood and other senior officers and eminent persons were present on the occasion.