Himachal Pradesh has been ranked first in governance among the 12 small States of the country for the second consecutive year in Public Affairs Index (PAI) released by the PAC, Bengaluru in the index of child rights.
Dr. Purnima Chauhan, Secretary Administrative Reforms & Language, Art & Culture received the award on behalf of the State from Dr. K. Kasturirangan, Chairman, PAC during a function organised at Bengaluru recently.
Chief Secretary Vineet Chawdhry and Secretary Administrative Reforms Dr. Purnima Chauhan presented the award to Chief Minister Jai Ram Thakur on Tuesday evening.
Chief Minister appreciated and validated the consistent sincere efforts made by the officers of the state government for achieving this Award. He appealed them to work with more dedication and commitment so that people could be benefitted with the welfare and developmental schemes of the government.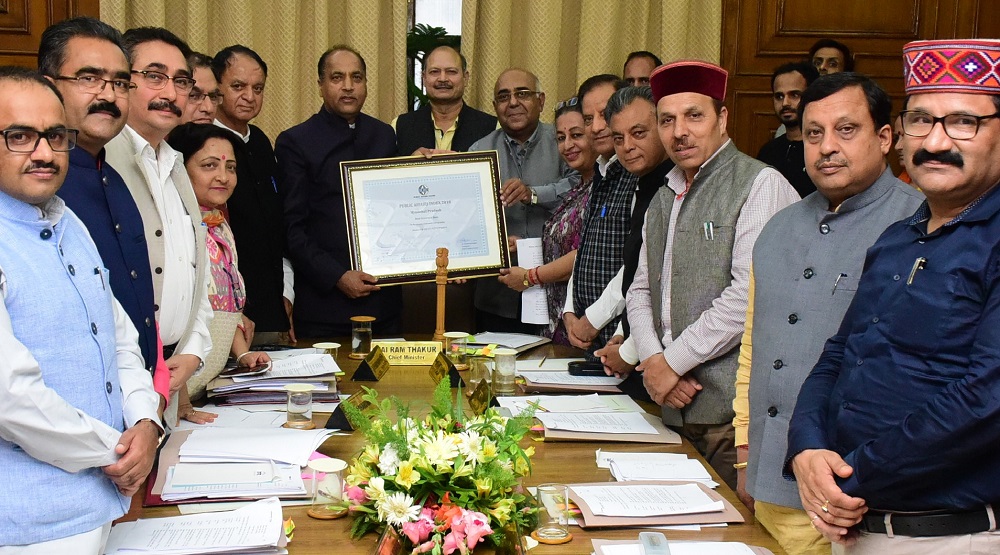 A Spokesperson of the state government said today that Himachal Pradesh has also secured the first place in the index of children's rights. Action on Child rights is a growing concern in the country eager to reap the demographic dividend and ensure a better future for all.
On the PAI ranking for 2018 Himachal is followed by Goa, Mizoram, Sikkim and Tripura. Last year HP was first on the PAI of 82 indicators, 10 themes and 26 focus subjects. The consistent performance of Himachal Pradesh on good governance was held to be remarkable also for the very low levels of economic, social and gender disparities. The State ranked very well on all three as our growth pattern is inclusive and proof of the SDG mission of "leaving no one behind" in development.
He said that HP in the Administrative Reforms undertook to pioneer a DGGI (District Good Governance Index) based on seven themes (essential infrastructure, support to human development, social protection, women and children, crime, law and order, environment and transparency and accountability), eighteen focus subjects (Power, Water, Roads, Housing, Education, Health, PDS, SJ&E, Minority Welfare, Employment, Children, Women, Violent Crimes, Atrocities, Environmental violations, Forest cover) and 45 indicators including some NITI Aayog indicators. He said DGGI draft report has been released by Chief Minister on Civil Service Day i.e 21-04-2018.