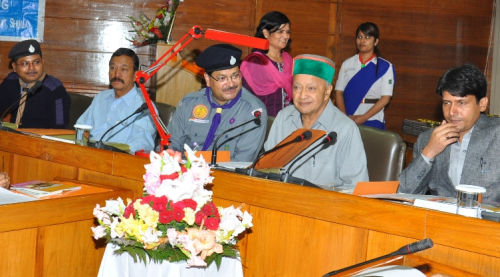 In the Annual State Council Meeting of Bharat Scouts and Guides Chief Minister Virbhadra Singh said that the units of Bharat Scouts and Guides (BS&G) would be started in all Government High and Senior Secondary Schools and Government Colleges. He said that the units would be started first in those Government educational institutions where NCC was not functional.
Chief Minister said that it's a matter of pride that BS&G's Association has emerged as voluntary, non Political and secular organisation contributing to development of young people in achieving their full intellectual, social and spiritual potential.
Virbhadra Singh announced increase in grant-in-aid to BS&G from Rs. 20 lakh to 25 lakh to strengthen and promote its activities in the State. He said that financial assistance would be provided to set up training centres at Rewalsar in Mandi district which was announced by him during his last tenure, adding that the foundation day of BS&G would be celebrated at Raj Bhawan on 7th November this year and also stressed the need for exploring more avenues for income generation to extend its activities up to grass root level in the State.
Virbhadra Singh said that State-level rally would be held in Kullu district in October this year. He said that efforts would be made to construct training centres at Plassi in Hamirpur, Barthin in Bilaspur and Mamleeg in Solan district. He lauded BS&G Himachal Pradesh unit for earning distinction at National level last year.
Earlier, Virbhadra Singh was elected as President of the Bharat Scouts and Guides wing of Himachal Pradesh. Chief Parliamentary Secretary Neeraj Bharti, Chief Secretary Sudripta Roy, Advisor to Chief Minister T.G. Negi and Social Worker Uma Baldi were elected as Vice Presidents of BS&G H.P.
Director Higher Education Dinkar Burathoki was designated as State Chief Commissioner of BS&G's. He welcomed the Chief Minister and detailed about the various activities undertaken by BS&G HP in the State. He said that more than 40 thousand students and 3300 teachers were actively participating in BS&G in the State under the banner of Cub & Bulbul, Scouts & Guides at School level and as Rovers & Rangers in Colleges.
BS&G Assistant Director, Northern Region, Aroop Sarkar complemented the BS&G Himachal Pradesh for electing its new body with Chief Minister Shri Virbhadra Singh as its President. He said that Virbhadra Singh is a stalwart under whose leadership BS&G HP would spread its activities manifold. State Commissioner BS&G HP-cum- Principal Govt. College Excellency Sanjauli (Shimla) Dr. J.S. Negi presented vote of thanks.