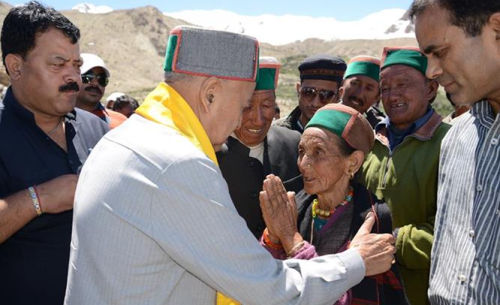 As the State has suffered losses worth Rs 2575 crore as per preliminary assessment due to incessant rain, massive landslides and untimely snow in different parts of the State, Chief Minister Virbhadra Singh has left for Delhi today to take up the matter with Government of India for seeking adequate financial assistance for carrying out relief and restoration works.
He is likely to meet the concerned ministries and apprise them of the latest situation of the disaster hit areas and the loss of public and Private property.
As district Kullu, Chamba, Sirmaur, Mandi and Lahaul & Spiti were affected heavily due to rains and flash floods, the tribal district of Kinnaur suffered maximum brunt of the disaster where as many as 24 people died due to landslide and many other affected throwing normal life out of gear.
The Chief Minister said that the State Government had initially released an immediate relief of Rs. 28 crore for undertaking relief and restoration work. He said that best possible efforts were being undertaken to restore the roads, power supply and drinking water schemes. He said that instructions have been issued to concerned authorities to assist the farmers and horticulturalists and adequate men, medicines and material had been dispatched to the affected areas. Besides, a team of scientists, doctors and administrative officers has been sent to disaster hit areas in Kinnaur to assist the local people and undertake restoration works alongwith district administration.
Singh said that the main source of economy of people of Kinnaur district was horticulture. The apple crop had been badly hit by the landslides and even the other fruit bearing trees of almonds, chilgoza etc. had also been destroyed, whereas in some areas the entire orchards were washed away, he added. CM said that he would take up the matter for immediate financial assistance with UPA Chairperson Sonia Gandhi and the concerned ministries.
However, Delhi Chief Minister Sheila Dikshit has announced a financial assistance of Rs five crore for flood victims in Himachal Pradesh.