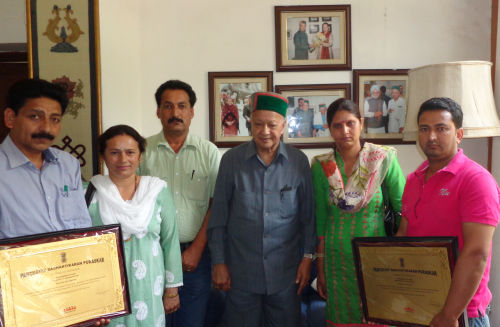 Chief Minister Virbhadra Singh congratulated the winners of the National Panchayat Day awards who met him in New Delhi today. Five Panchayati Raj Institutions of the State were presented National Panchayat Day awards by Union Minister for Panchayati Raj, V. Kishore Chandra S. Deo in New Delhi yesterday.
Chief Minister asked them to dedicatedly work for the development of the State so as to strengthen the Panchayati Raj Institutions. He said that these awards would motivate others to dedicate themselves for social cause and take innovative steps for ensuring overall development in various sectors of the Rural Development.
He said that State Government was committed for empowering these institutions so as to decentralize the planning process and ensure active participation of common citizen in development process of the State.