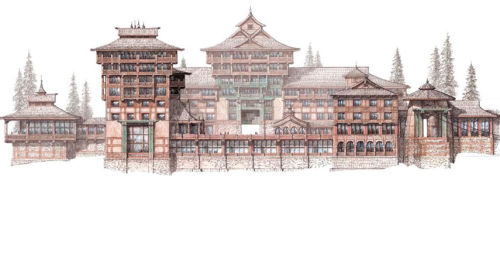 The proposed eco-friendly high-end Himalayan Ski Village project, promoted by Alfred Ford of the Ford Motor Company, on the surrounding higher riches of Manali is expected to start soon as Chief Secretary Sudripta Roy led high-power committee had decided to allow promoters of the Himalayan Ski Village to go ahead with the Rs.1,581-cr ($293 million) project.
The project, sanctioned by the Congress government in 2005, had hit one roadblock after another after the BJP government came to power in the state in December 2007. It has issued a show-cause notice to the company in January 2010. The company was asked to explain the reasons for not fulfilling mandatory requirements pointed out by the government.
The company challenged the government's decision in the HP High Court. After a legal battle lasting over two years, the high court in June last not only set aside the government's order scrapping the project but also pointed out serious procedural flaws on its part. Court had also asked the company to obtain the necessary clearances, including environmental, within stipulated time period. However, subsequently then Govt moved a letters patent appeal (intra-court appeal) citing another high court judgment that banned construction activity in the Kullu-Manali region on grounds of eco-sensitivity. Chief Secretary has revealed that Govt is in favor of withdrawing the (letters patent) appeal.
Alfred Ford had in April 2004 shown interest in setting up the high-end ski resort project in the hill state and in 2005, the then state government headed by Virbhadra Singh, who is again at helm, entered into an agreement with the Himalayan Ski Village company for establishing the project, but later in 2007, it hit logjams after change in Govt in state.
This development will be the first fully planned and integrated resort destination to be built in India since the British colonial powers built their 'hill stations', which remain enormously popular throughout the subcontinent. HSV will provide an international quality holiday experience to as many as 4,500 visitors at any one time.
The proposed high end project will be developed by Himalayan Ski Village Private Limited at the Northern of the Kullu Valley of the state. It'll adorn with all luxury facilities and will be located at heights between 7,500 and 14,000 feet above sea level. The Project targets the domestic tourists of India, as well as international visitors from the U.S., Europe, Japan, Korea, Australia Southeast Asia and the Middle East.
The Project involves the development of 700 Hotel rooms, restaurants along with an 'Indian Village' shopping experience; a 20,000 sq ft convention facility and a high end spa; and an entertainment/performing arts center.