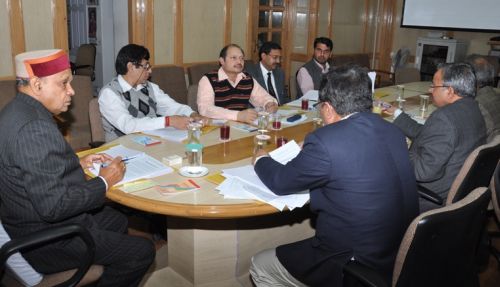 In the 131st Meeting of the Board of Directors of Himachal Pradesh Tourism Development Corporation (HPTDC), held under the Chairmanship of Prem Kumar Dhumal, today, granted approval to release 8.33 percent Bonus for the financial year 2011-12, to 676 employees of HPTDC.
The decision will benefit employees to the tune of Rs. 13 lakh. It was also decided to release one additional increment to Class IV employees who have completed 20 years of service at one place on the analogy of the State Government, besides granting approval to create six posts of Accounts Clerks on contract basis.
Addressing the Meeting, Chief Minister said that HPTDC happened to be the pioneer in hospitality industry in the State which had a vast network of hotels and restaurants and had good reputation amongst the customers. He said that quality services delivered with traditional Himachali culture would boost income prospectus further. He said that strict and strenuous efforts were required to be made to make every unit of the Corporation profit bearing. He said that in the age of excellence and cut throat competition, strict professional approach was required to be adopted to earn profit for the organization wherein each and every employee had to work over time. He said that the nature has blessed the State with immense natural grandeur and Corporation had its units at all prominent tourist destinations. He said that clean and serene environment with polythene free zone were added advantages to attract customers to Himachal Pradesh. He said that best use of the internet facilities needed to be ensured by marketing the state through internet channels all over the world.
Prof. Dhumal said that the state government had been considerate towards the demands of the employees of the Corporation and had been providing them benefits of cash and promotional incentives due to them from time to time. He said that in return dedicated and committed services on their part were expected to be rendered so that profit margin could grow substantially. He advised the authorities to introduce packages for tourists in coming winter season so that people could be attracted towards the state in large number. He said that to add to the facilities, one Convention Centre was being constructed in world famous tourist destination Manali at a cost of Rs. five crore which would also provide opportunity to Corporate sector to hold their meetings. He said that another bigger convention centre had been proposed to be developed at Kiarighat in district Solan, on Kalka-Shimla Highway which would add to the tourism infrastructural facilities enroute to Shimla.
Lokender Chauhan, Managing Director of the Corporation, welcomed the Chief Minister and conducted proceedings of the Meeting. He said that strict financial discipline was being maintained at all level besides adhering to the professional approach. He said that diversified activities were being explored to generate additional revenue to the Corporation.
Chief Secretary S.Roy, Dr. Srikant Baldi, Principal Secretary Finance, Dr. Arun Sharma, Director of Tourism and Civil Aviation, Dr. S.P. Bansal, Ashish Chadda, Narender Atri, Non-Official Members, Yogesh Behl, General Manager and other Members of the Board attended the Meeting.