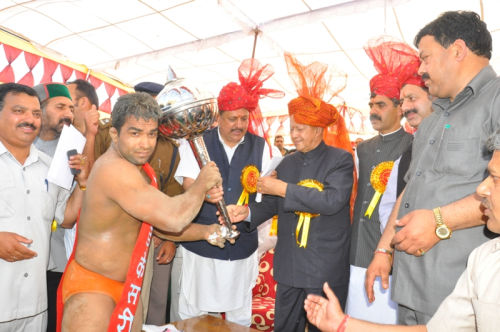 At the concluding ceremony of week-long Nalwari Fair at Bilaspur, today, Chief Minister Virbhadra Singh announced to construct a new Mini Secretariat at Bilaspur.
Earlier, the Chief Minister inaugurated the Ghaghas bridge over Ail khud on National Highway constructed at the cost of Rs. 5.81 crore. He also inaugurated District Attorneys building at Changar sector which has been constructed at a cost of Rs. 1.68 crore.
Virbhadra Singh said that Rs. 21.55 crore sewerage treatment scheme had been sanctioned for Bilaspur town for which the work of land acquisition was in progress. Besides, work on Kol Dam Lift Drinking Water Supply Scheme, being constructed at a cost of Rs. 64.66 crore would be completed by the end of this year and it would connect many drinking water schemes of Sadar, Ghumarwin and Naina Devi assembly constituencies.
He said that the construction of Baagchhal Bridge was started in January, 2006 by Gammon India private limited and Rs. 18.49 crore had been spent on this so far besides Rs. 4.85 crore had been spent on construction of its approach road. He said that the work on this bridge had been stopped due to certain technical reasons and matter would be taken up with Gammon India so that this work could be completed at the earliest. He said that the work on Beri-Darolan bridge was also started in year 2006-07 by sanctioning Rs. 33.66 crore and a detailed project report of Rs. 165 crore was under consideration for this bridge.
Chief Minister said that the district administration had been directed for allotment of plots to the oustees of Bhakra Dam who lost their land in Govind Sagar Lake. He said that land had already been identified for development of two sectors near HRTC workshop. He said that a hydro engineering college had been proposed for Bilaspur district.
Chief Minister also released the souvenir brought out on the occasion of Nalwari Fair. Ajay Sharma, Deputy Commissioner and Chairman, Nalwari Fair Committee welcomed the Chief Minister.
He also visited the exhibitions put up by various departments and NGOs on the occasion.
Chief Minister also distributed prizes to the winners of wrestling competitions. Johney Chaudhary of Sundernagar won the wrestling competition and was presented with Gurj and a cash prize of Rs. 71000. Second prize of Rs. 51000 was given to Sunny of Punjab while third prize of Rs. 25000 to Dharmender Alamgir of Uttar Pradesh and 4th prize of Rs. 20000 to Manu from Delhi.
Rajat of Kangra was declared as 'Him Kumar' who was given Gurj and a cash prize of Rs. 51000. Second prize was won by Gurcharan of Nalagarh, which includes cash prize of Rs. 21000, and third prize of Rs. 15000 to Chaman of Jukhala.
Earlier, District Bar Association met the Chief Minister and urged him to provide financial assistance for construction of Lawyers Chamber and facility of Internet. Chief Minister said that various District Bar Associations had been demanding assistance for construction of lawyer's chambers which would be considered sympathetically. He directed the district administration to provide Internet facility to the Association.
Shri Ram Lal Thakur, Chairman, 20 Point Programme, Shri Rajesh Dharmani, Chief Parliamentary Secretary, Shri Bamber Thakur, local MLA, former MLAs Shri Biru Ram Kishore, Dr. Babu Ram Gautam and Shri Tilak Raj Sharma, and prominent people were present on the occasion.