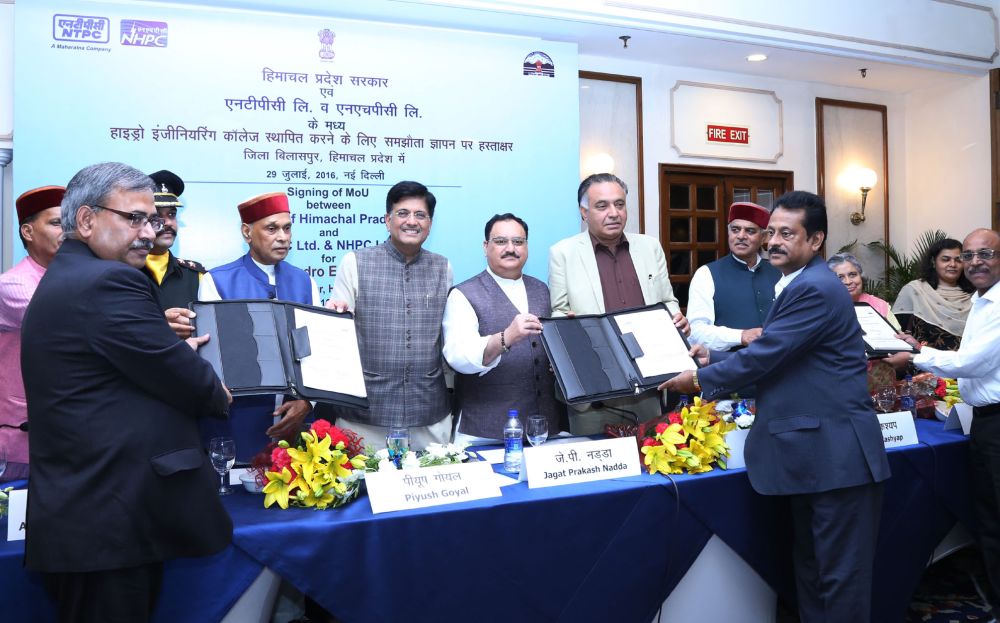 New Delhi: Himachal Pradesh government, NTPC and NHPC signed a memorandum of understanding (MoU) today for setting up Hydro Engineering College in the State. This is first of its kind joint venture in the Country.
The MoU was signed by Rajeshwar Goel, Director, Department of Technical Education, on behalf of Himachal Pradesh and K.K. Singh, Regional Executive Director (Hydro), NTPC Ltd. and S. Mitra, Executive Director (CSR & SD), NHPC, in the presence of Union Health Minister J.P. Nadda, Union Minister of State (Power) Piyush Goyal and HP Transport and Technical Education Minister G.S. Bali.
This ambitious project with the financial support of NHPC and NTPC would be set up at Bandla in Bilaspur District at the cost of Rs. 125 crore for which both the Corporations have committed to contribute Rs. 37.50 crore each in the first phase and Rs. 25 crore each in the second phase.
Union Minister of State (Power) Piyush Goyal said this Engineering College would not only provide cheap and quality engineering education to the youth of Himachal Pradesh but also set up an example of participation in the Country. He said that initially five disciplines having 60 seats each would be started in this college. Union Health Minister JP Nadda assured Power Ministry all possible support for timely completion of this project. Nadda said
'Setting of the first Hydro Engineering College at Bilaspur shall boost regional development and provide more job opportunities for local educated youth and make available specialized work force to NTPC and NHPC. It is indeed a historic moment'
The Health Minister further stated that Hydro power generation particularly in Himalayan region requires a combination of technical skills spanning different fields of engineering – civil, hydrology, mechanical, electrical engineering etc. Thus, there is a felt need to have a comprehensive and specialized field of study – Hydro Engineering College would be an appropriate model, Shri Nadda elaborated.
Nadda congratulated the NHPC and NTPC and State of Himachal Pradesh for collaborating in true federal spirit for making this long standing project a reality, and said that Hydro Engineering College was conceived in the year 2009 and today the long cherished dream is being realized through signing of this Memorandum of Understanding.
Speaking on the occasion G.S. Bali thanked the Union Government for its pro-active approach in finalizing codal formalities for this project. He said that State government had already identified and transferred the land for this project.
The State of Himachal Pradesh possesses more than 20,000 MW Hydropower potential and NTPC and NHPC are engaged in operation and construction of many projects in the State.
Leader of opposition, HP Vidhan Sabha Prem Kumar Dhumal, MPs Viplov Thakur, Virender Kashyap, Ram Saroop Sharma and Anurag Thakur, Additional Chief Secretary Tarun Shridhar, Principal Secretary Sanjay Gupta were also present during the ceremony.