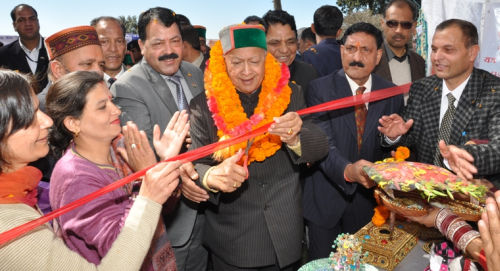 Shimla celebrated State level function on International Women's Day today, which was inaugurated by the Chief Minister Virbhadra Singh. While addressing the gathering at the occasion, Singh said that celebrating this day was a special occasion to remember outstanding achievements and contributions made by women towards the society. In view of this, the State Government has taken a decision to honour the outstanding women which would inspire others.
He also announced that the State government will honour the five women with 'Himachal Mahila Award' for their outstanding contributions in the fields of education, health, empowerment, sports, culture and social services sectors annually.
Virbhadra Singh said that State government would establish 'mahila ashrams' in every district in order to provide shelter for the destitute women. Efforts would be made to open more Anganwari Centres throughout the State to facilitate the women and children. The state government was committed to fulfil all the promises made by the Congress party, especially for women in the election manifesto. He said that female literacy rate of the State was 76.60 percent and sex ratio was 974, which were much higher than national average.
He said that today women were excelling in all the fields like education, sports, science and politics etc and had made their presence felt. Their economic and social conditions had improved and they were more aware of their rights and were contributing significantly in development of the society and the nation. However, it was a matter of great concern that still they were not enjoying full freedom and protection and were facing various social crimes and discrimination.
Expressing his concern over the recent incidents of crime against women he said that such incidents were blot on the nation and effective steps were being taken at national and state governments to check these incidents, but cooperation of the society was needed. He said that state government was sensitive towards women folk and sincere efforts were being made to ensure their social and economical welfare.
Chief Minister also inaugurated the exhibition put up by various departments, banks and self-help groups on the occasion. He also honoured Arjun Awardee Suman Rawat, Joint Director, Youth Services and Sports and Kumari Priyanka Negi, International Kabaddi player who had won three Gold Medals at international level. He also presented State Awards to 17 Anganwari Workers for their exemplary services under Integrated Child Development Scheme for the year 2011-12.
Irrigation & Public Health Minister Vidya Stokes said that women represented half of the population of the country and they were contributing in every sphere. She said that they had been given equal rights by the constitution but it was unfortunate that still were not able to enjoy them. She said that this day was organized to aware women about their rights, freedom and well being.
Stokes said that Congress governments had always accorded top priority for welfare of women and various schemes and programmes were being implemented to benefit them. She said that former Prime Minister Indira Gandhi pioneered the women welfare and UPA Chairperson Sonia Gandhi too was providing special attention on women issues.
Social Justice & Empowerment Minister Dhani Ram Shandil said that International Women Day was celebrated throughout the world to highlight the women rights and their related issues. He said that women had made significant contribution in the development of State and the Nation. He said that Kinkri Devi of Sirmour had raised the environment issues and Ghambri Devi of Bilaspsur had made significant contribution in promoting Pahari folk music. He said that State Government had initiated many schemes for the welfare of women. Free education upto Graduation, Mukhaya Mantri Kanya Dan Yojna, Kishori Shakti Yojna, Balika Surkesha Yojna, Mother Teresa Matri Sambal Yojna, Indira Gandhi Matritva Sahyog Yojna and Mahila Uthan Yojna were some of these, he added.
Principal Secretary, Social Justice & Empowerment P.C. Dhiman welcome the Chief Minister and detailed about the various activities of the department. MLA Ravi Thakaur, Mayor Sanjay Chauhan, Chairperson State Women Commission Dhaneshwari Thakur, Chairperson H.P. Social Welfare Board Veena Thakur, DC Dinesh Malhotra, Director, Women and Child Development Madhuballa, S.P. Abhisek Dullar, senior officers of State Government and women in large number from various parts of the State participated in the function.