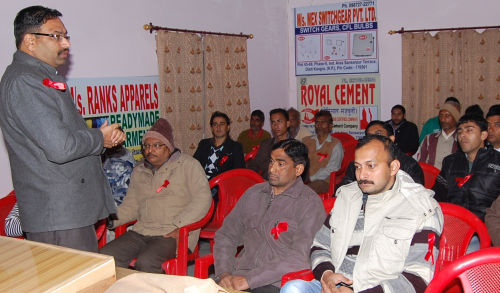 A training workshop was organised by HP State AIDS Control Society at Sanasrpur Terrace (over 50 km from Nurpur) in collaboration with industry department and local NGOs- Youth Development Centre, Plan Foundation.
Vijay, Member Secretary, single window clearance, Industrial Area Sansarpur Terrace, who presided over a trainer workshop today under the aegis of HP State AIDS Control Society stated that
"HIV and AIDS have been recognized as a threat to the development of a healthy workforce. Each worker is crucial and absenteeism causes interruptions in production. As the pool of skilled labor shrinks due to HIV, the survival of their business will be threatened. Though India has a low prevalence of HIV, it is very important that we do not remain complacent but take early action to avert a future epidemic and support the national response to HIV and AIDS.
Dr RK Sood, AIDS Programme Officer stated that Infection adversely affects not only the worker and his family but also the productivity of the industries. HIV is affecting the most productive segment of the labor force, and imposing huge costs on enterprises in all sectors. The major impacts are Loss of skilled and experience workers, reduced supply of labour, Rising labour costs, Falling productivity, and reduced profit and investment. He added that in order to provide an environment that is conducive towards the prevention of HIV among employees in workplaces in India, it is important that enterprises establish and implement HIV prevention programmes and policies in line with the National Policy on HIV AIDS.
Basics of HIV and misconceptions were clarified by experts, and information was provided on routes of transmission, sexually transmitted infections, condom use, facilities for free and confidential testing in integrated counseling and testing centres, Anti-Retroviral treatment which enables a positive person to live long and healthy life.
Positive speaker Kishan from District level network of HIV Positive Zindagi Zindabad, shared his experiences and appealed to all to adopt safe behaviour. Participants hugged him and demonstrated that they have shed fears and misconceptions and they don't discriminate. He called upon all to know their HIV status in Mobile ICTC which was coming to the town next month.
Speaking on the occasion, Urmil Devi, Health Educator stated that poor awareness about HIV/AIDS leads to vulnerability on the one hand and discriminatory practices on the other. Since this group of workers is a bridge between the high-risk group and the general population, intervention at the workplace is very supportive in arresting the spread of infection. Atul Kumar from ICTC Dehra told that the trained master trainers will further conduct Intervention at the workplace to carry correct messages to the communities and homes of the workers.
The HIV/AIDS epidemic is now a global crisis, and constitutes one of the most formidable challenges to development and social progress. HIV/AIDS affects the most productive age group of 15-49 years. Workplace Intervention is a good entry point for public-private partnership, the event also aimed to integrate HIV in regular programmes of the company, industries having employee as the HIV/AIDS Nodal Person, establishment of an internal HIV/AIDS committee and their Sensitization, encourage the industry to expand their regular small programs as part of their CSR initiatives. The long term outcomes include helping industry to adopt HIV/AIDS workplace policy with the consent of the internal committee/management. The workplace has a vital role to play in the wider struggle to control the epidemic. Dr IK Sharma of Youth Development Centre NGO offered to give his voluntary services for health awareness cum camps in the area. SBI Senior Manager Vivek Anand stated that the bank will support the campaign by sponsoring hoardings.
Box- NACO's new migrant strategy to address vulnerability of migrant workers
Deputy Director HP Sate AIDS control Society, Shimla Vishal Acharya stated that "Recognizing the fact that the HIV prevalence among migrant population being 3.6% which is 10 times the HIV prevalence among the general population, and the prevalence in their spouses is higher than general population, National AIDS Control Organisation has relooked at the migrant program strategy and revised the policies and guidelines for implementing prevention programmes for this group. With migration rates increasing, the prevalence will only get worse.
NACO's migrant program has strong emphasis on effective outreach combined with services like clinical treatment of STIs, counselling for risk reduction and linkages with ICTC and ART. This program will benefit the coverage of HIV prevention and provide care and support to the migrants thus making significant contribution to public health in India. NACO aims to reach the migrants at source, transit and destination through Targeted Interventions combined with focused IEC programmes aiming at increasing the level of risk perception, demand generation for services, positive prevention practices.
Dr RK Sood, AIDS Programme Officer stated that the Human Resource management & Corporate Social Responsibility (CSR) professionals were sensitised about Key Principles of International Labour Organisation Code for HIV/AIDS workplace policy – Non-discrimination, No screening of employees for HIV for the purpose of employment, No dismissal of the positive employee, Confidentiality, Social Dialogue, Healthy Work Environment, Gender Equality, Continuation of employment relationship and Prevention & Care & Support programs.