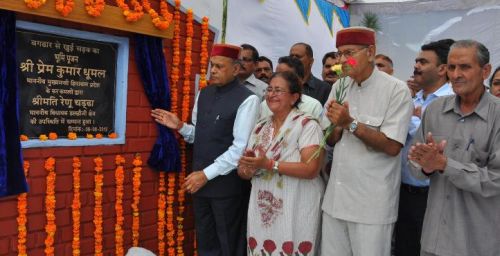 Chief Minister Prem Kumar Dhumal said that 90 percent of habitations in the State had been brought under the piped drinking water supply schemes which were highest in the Country.
Chief Minister stated it while addressing a public meeting at Chowari in district Chamba, today. He said that the State Government would set up solid waste management plants in upcoming semi-urban areas in a phased manner to ensure clean and serene environment in the State. Prof. Dhumal said that 12 percent population of the State had more than six-roomed accommodation for their families and 86 percent of its population had mobile telephone facility. He said that the only one percent of population of the State was houseless which would also be covered on priority. He said that this speaks volumes about the sea change that had taken place in the socio- economic status of the people.
Prem Kumar Dhumal said that to give respite to the people of the State from rising prices, Rs. 130 crore subsidy was given under the State special subsidized ration scheme under which three pulses, two edible oils and salt was being given to every ration card holders on heavily subsidized rates. He said that each of the BPL and APL ration card holder were getting subsidy on essential commodities of Rs. 525 and Rs. 890 crore respectively. He said that subsidized essential commodities, domestic power, Atal Swasthya Seva Yojna were some of the major schemes which had benefitted every family irrespective of their economic and social status. He said that 2.25 lakh persons had availed free ambulance service under Atal Swasthya sewa Yojna since its launch.
Chief Minister said that the State Government had adopted Election Manifesto as Policy Document of the State for implementation in toto and had not only fulfilled the promises made but performed beyond the manifesto to benefit the people. He thanked entire official machinery for implementing the policies and programmes in the right perspective so that people could be benefited. He said that 16.5 lakh domestic consumers had been provided four CFL bulbs under Atal Bijli Bachat Yojna by spending Rs. 64 crore over the scheme which had resulted into saving on power bills amounting to over Rs. 110 crore in one year. He said that financial assistance under Atal Awas Yojna and Indira Awas Yojna had been increased from Rs. 27,500 to Rs. 48,500 to provide housing facilities to each of the poor family in the State.
Prof. Dhumal said that Atal School Uniform Yojna had been instrumental in bringing about in uniformity in state owned educational institutions and saving them from inferiority complex. He said that besides free uniform stitching charges of Rs. 100 were also being given to every child with each uniform. He said that it was wrong to say that the Scheme was Government of India funded and asked that if it was so why did not the Congress ruled States launched the scheme in their respective States. He said that the BJP Government in the State had ensured bread, cloth and house to every eligible family to help them lead a reasonably comfortable life.
Chief Minister said that BJP had adopted the policy of uniform and balanced development of the entire state by rising above political considerations. He said that schemes worth Rs. 1272 crore had been launched to strengthen the basic farming, dairy farming and horticulture sector so that people could find self employment in their traditional avocation. He said that Bhed Palak Samridhi Yojna had been launched to facilitate shepherds in modernization of their ancestral avocation. He said that the State Government had also decided to provide solar lights to shepherds. He assured local people of considering their all demands sympathetically on priority.
Later Prof. Dhumal also laid foundation stone of bridge on Chakki River at Dangardi village. Chief Minister also distributed school uniform amongst school students of different state owned educational institutions in the area under Atal School Uniform Yojna.
Earlier Chief Minister performed Bhoomi Poojan at Bhagdhar to start construction of 4.2 kms. long Bhagdhar-Khuin road, estimated to cost Rs. 364 lakhs and benefit 266 people in the area. He also addressed a public meeting at Bhagdhar and said that it was under BJP regime in the State that the project affected families of Thein Dam were given highest land compensation besides providing employment to their wards in the project. He said that the State Government would be spending highest amount of Rs. 1.75 on each person under the road project to Khuin village. He sanctioned Rs. 5 lakh for link road to connect Badheru village with motorable road. Chief Minister also sanctioned Rs. 4 lac for conversation of wooden bridge into steel bridge at Gram Panchayat Malunda.
Shri Kuldeep Pathania, local MLA, also welcomed the Chief Minister to his home segment and apprised him of various demands of the area.
Renu Chadda, MLA, Baniker, Bhupender Chauhan, Chairman, APMC and President, District Chamba BJP, felicitated people of the district on Minjar Festival and said that it was a proud moment to district Chamba in general and Chowari in particular that Kumari Sakshi had brought laurels to the district and area by topping in matric examination in the State. He detailed important schemes of the State Government which had brought about sea change in the entire State.
Santosh Kumari, President, Nagar Panchayat, Chowari, welcomed the Chief Minister and apprised him of various local demands and urged him for remedial steps on priority. Gandharv Singh, former MLA, Santosh Thakur, Chairperson, Zila Parishad, Radha Devi, President, Chowari BJP Mandal, Dr. Sunil Chaudhary, Deputy Commissioner, Kuldeep Sharma, Superintendent of Police and other senior officers of different departments were present among others on the occasion.