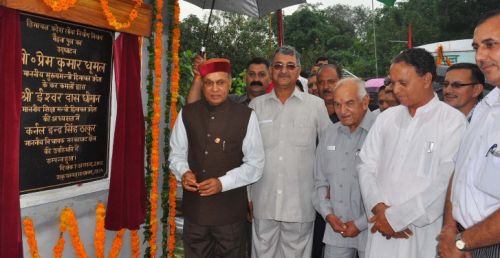 Chief Minister Prem Kumar Dhumal dedicated newly constructed Chandruhi-Behna motorable bridge on Chandruhi-Gopalpur road, completed at a cost of Rs. 206 lakhs and performed foundation stone laying ceremony of Boys Hostel at ITI Bhoranj, estimated to cost Rs. 195 lakh, in district Hamirpur. He said that the State Government had notified four degree colleges for Mandi district alone which included Baldwara, Rewalsar, Nihri and Lad Bharol, which was a record in itself. While addressing public meeting at Chandruhi Chief Minister said that the opening of new colleges had been notified and directed to be made functional from current academic session.
Prof. Dhumal said that the state government was spending over Rs. 130 crore on providing subsidized essential commodities to every ration card holder during current financial year. He said that subsidized power was also being ensured to every consumer in the State where the state government was spending Rs. 190 crore during current financial year. He said that Rs. 64 crore Atal Bijli Bachat Yojna had saved on electricity bills to the tune of Rs. 110 crore in one year. He said that the State Government had not only notified the opening of new government degree colleges but also made them functional. He said that the BJP Government believed in not making promises but fulfilling the same in letter and spirit.
Chief Minister said that BJP believed in emotional and geographical integration of the State while the Congress had been misleading people in the name of old and new, lower and upper, apple growing and non-apple growing areas. He said that state stood emotionally integrated. He said that the BJP government had not only provided support price to apple but also included mango under the MIS scheme which had been increased to Rs. 6 per kg. during current season. He said that the BJP had never discriminated any area for developmental and other purposes.
Col. Inder Singh, MLA Gopalpur, welcomed the Chief Minister and thanked him for dedicating the newly constructed bridge to connect people of both the districts and sanctioning government Degree College at Baldwara, which would facilitate education of rural youth immensely. He counted developmental milestones established in his home segment which included 33 KV sub-station at Lalkhar and 132 KV sub station at Jahu to ensure quality power supply to the residents of the area. He thanked Chief Minister for the priority accorded by him for speedy development of the Gopalpur segment.
Ishwar Dass Dhiman, Education Minister, Mahender Singh, Transport Minister, M.C.Parmar, CMD, Ex-Servicemen Welfare Corporation, Pyare Lal Sharma, Chairman, APMC, Des Raj Sharma, President, District Hamirpur BJP, Anju Sharma, Vice President, Gopalpur Mahila Morcha, Smt. Saroj Dhumal, Vice Chairperson, Zila Parishad, Smt. Veena Sharma, Member, State BJP Executive Committee, Devesh Kumar, DC, Abhishek Dullar, SP, B.T. Negi, Chief Engineer, PWD, other senior officers and prominent people of the area were present on the occasion.