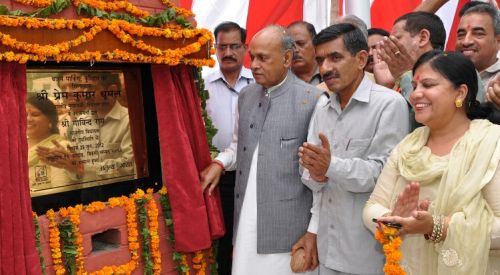 Chief Minister Prem Kumar Dhumal dedicated newly renovated bus stand and Grameen Haat, at Kunihar, district Solan, that was constructed at a cost of Rs. 15 lakh each, to the people of the area. He also performed the foundation stone of parking, estimated to cost Rs. 50 lakh. While addressing the local public CM said that added priority was being accorded to speed up the development in rural area and schemes worth Rs. 1100 crore were under implementation to accelerate the development further.
Chief Minister said that the State Government was implementing Rs. 353 crore Pandit Deen Dayal Kisan Bagwan Samridhi Yojna, aimed at diversifying the traditional farming practices and encourages cultivation of cash crops and off season vegetables, under controlled climatic conditions. For this 80 percent subsidy was being given for construction of poly houses and micro irrigation. He said that Rs. 300 crore Doodh Ganga Yojna was bound to bring about white revolution in the State by strengthening dairy farming. He said that the scheme was likely to benefit 50,000 persons, especially women self-help groups who were eligible to avail subsidy upto 33 percent for scheduled caste beneficiaries for general category and 25 percent for general category. He said that additionally, Rs. 321 crore JICA funded organic fertilizer scheme had also been launched to motivate farmers revert back to organic farming which could ensure them remunerative returns. He said that with a view to replace old root stock of apple, a Rs. 85 crore Apple Re-plantation Scheme had also been launched. He said that all above schemes were bound to strengthen the rural sector.
Prof. Dhumal said that the State Government had decided to open one gymnasium in each of the 3243 gram panchayats of the State by spending Rs. 50,000 on each of them. He said that the scheme aimed at making rural youth health conscious so that they were saved from drug addiction and other vices. He said that 800 doctors and one third of the total strength of the nursing staff were recruited during previous four year regime of BJP which had ensured availability of functional staff in each of the health institution in the State. He said that besides free ambulance service, free institutional delivery facility was also available to the women and on return to their home, cash incentive of Rs. 700 were also being disbursed to them. He said that Atal Swasthya Sewa had been a grand success in saving precious lives of the people and delivering people emergency medical services en-route to hospitals.
Chief Minister said that Sadak-Shiksha-Swasthya-Swarojgar-Swavlamban-Swabhiman had been the priority of the State Government and effective steps had been taken to achieve the objectives during past four years. He said that 27 villages had been connected with motorable roads in Arki assembly segment during past four years besides constructing three bridges. He said that road and bridges projects, worth Rs. 100 crore had been executed in the segment while detailed project report for other different such projects valued at Rs. 38.57 crore had also been sanctioned for NABARD funding. He said that Rs. 4.82 crore sewerage scheme had also been sanctioned for Kunihar town. He said that Rs. 3.02 crore were being spent over development of parking slots in Arki segment.
Later Chief Minister also dedicated newly constructed Forest Rest House at Batal village, Ambedkar Bhawan, completed at a cost of Rs. 13.5 lakh at Arki and laid foundation stone of parking at Arki estimated to cost Rs. 50 lakh. Chief Minister was given a rousing reception on his arrival at Kunihar and Arki. He also listened to public grievances after the public meeting.
Virender Kashyap, MP Lok Sabha, said that development gained momentum under the visionary leadership of Prof. Prem Kumar Dhumal and no area and section had remained uncovered under different schemes launched by the State Government from time to time. Shri Gobind Sharma, local MLA, welcomed the Chief Minister to his home segment and thanked him for adding more developmental milestones of development in his contituency. He gave a detailed account of the development which had taken place in the segment during past four years.
Dr. Rajiv Bindal, Sheela Kumari, Chairperson, Zila Parishad, senior BJP leader and other prominent people of the area were present on the occasion.