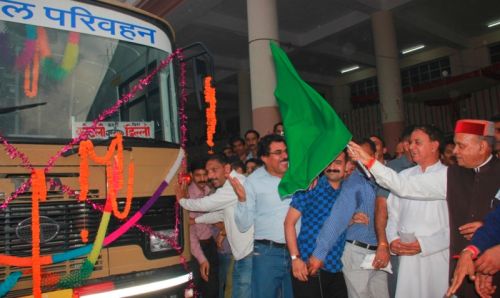 As assembly poll are coming near Chief Minister Prem Kumar Dhumal is on major inauguration spree. After giving poll bonanza in Kullu district, CM today dedicated the first phase of Inter-State Bus Terminal (ISBT), Mandi constructed at a cost of Rs. 14.32 crore. Addressing a gathering on the occasion, Chief Minister said that the construction of the Bus Stand has met the long pending demand of the people of Mandi district had been fulfilled. He said that the second phase of the Bus Stand would be completed soon on which about Rs. two crore more would be spent. He said that the demand for Bus Stand at Mandi was being raised from 1990 and the BJP Government had not only laid the foundation stone of the same but had also started it. However, Mandi Bachao Morcha convener Lakshmender Guleria criticized against the inauguration as he had alleged that CM is inaugurating half-complete projects to gain mileage before assembly poll.
Chief Minister said that the BJP Government had not only fulfilled the promises made in the Election Manifesto but had also performed beyond it and given boost to the development of the State. He said that Mandi was an important district of the State and in future the Government would open University in private sector in the district for providing higher education facility to the youth. He said that Rs. 880 crore ESI Medical College and Hospital was under construction in the district and also one IIT. He said that the Government had opened four colleges in the district within a year at Rewalsar, Nihri, Ladbhadol and Baldwara. He said that the opening of higher educational institutions in private sector had always been opposed by the Opposition without realising that the youth of the State was now getting qualitative education within the State itself. He said that not only the youth from the State but also from other States were coming to Himachal for gaining higher education and Himachal Pradesh was emerging as Education Hub of the country.
Mahender Singh Thakur, Transport Minister welcomed the Chief Minister and thanked him for undertaking various developmental works in the district. He said that due to concerted efforts of the Chief Minister State was emerging a pioneer in every sphere of development.
Jai Ram Thakur, Rural Development and Panchyati Raj Minister, Dile Ram, Roop Singh Thakur, Col. Inder Singh, Anil Sharma, MLAs, Ram Swaroop Sharma, Vice Chairman, State Civil Supplies Corporation, Mohan Joshi, Chairman, MILKFED, D.D. Thakur, Kanhiya Lal, former MLAs, Ajay Rana, Vice President, State BJP, Rakesh Jamwal, Secretary, Bhuvneshwari Kapoor, State BJP Secretary, Praveen Sharma, BJP Secretary were also present on the occasion among others.