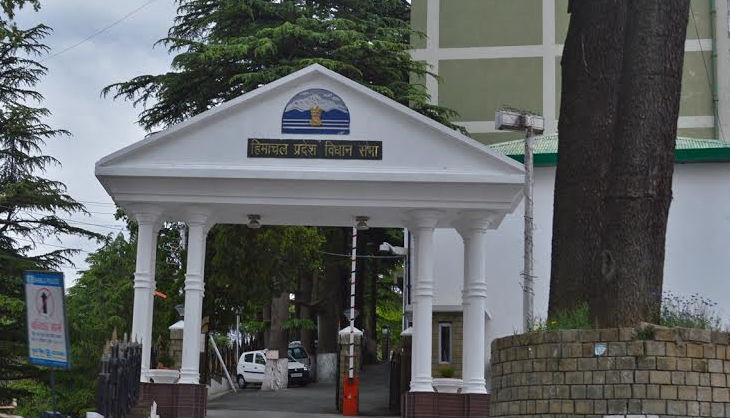 Shimla: Failing to resolve the stand-off between treasury and opposition benches, Himachal Pradesh Vidhan Sabha Speaker Brij Bihari Lal Butail adjourned the 16-day monsoon session for sine die with voice vote.
The assembly was earlier scheduled to convene till Aug 29.
Chief Minister Virbhadra Singh said since "the stalemate between the government and the opposition is on and the government has no further business, we want to house to adjourn sine die".
After the all party meeting with Speaker earlier today, it's expecting that the proceeding of the house will be smooth, but when opposition members didn't raised the questions with Chief Minister, treasury bench started raising objection. With the intervention of Vidhan Sabha Speaker, house proceeding were started again, but problem begin when opposition members walkout from the house when Chief Minister started responding on the issue raised on cloudburst in Sirmour District by Dr Rajiv Bindal. Chief Minister read out his reply and immediately after that Chief Minister condemned the behaviors of opposition and accused leader of opposition for doing it to divert public attention from its wrongdoing. Chief Minister said that he couldn't allow to waste public money.
Angered on the behaviors of the opposition, Parliamentary affair minister Mukesh Agnihotri proposed to adjourn the house for sine-die.
In a meanwhile, opposition members return to the house and Suresh Bhardwaj condemn the minister proposal and called it undemocratic. Bhardwaj said that the BJP object such demand and wanted to run the house and debate on the public welfare issues in the house.
Leader of opposition Prem Kumar Dhumal also joined in and stated that the opposition has right to protest and ruling party should have any problem with it. He also reminded the treasury bench that when they were in opposition they used to boycott one of its cabinet minister. He also objected the Chief Minister's personal remarks on him and shown his desire to discuss them in the public domain.
Chief Minister and Leader of opposition also shared harsh word between them.
Transport Minister GS Bali also tried to resolve the stalemate and advised to desist raising personal issues in the house.
Vidhan Sabha Speaker also made passionate appeal to end the logjam, but Chief Minister persisted on the demand to adjourn the house for sine-die.
BJP member Suresh Bhardwaj also intervened and advised Speaker to convene a meeting between Leader of the house and opposition for possible way out.
However, treasury bench persisted on the adjournment of the house and Leader of opposition advised to dissolve the house and demanded for the fresh election.
Failing to the end the stalemate, firstly Speaker adjourned the house for two hour for consultation and after that when house assembled adjourned the monsoon session under rule 20 of the house for sine-die with voice vote.
Opposition BJP called it a black day in the history of Himachal Pradesh Vidhan Sabha and termed it as a direct attack on the democracy.